Last updated: August 9, 2023

Good morning messages for him aren't just reserved for special occasions. You can send a warm and uplifting text to your boyfriend, husband, or friend any day! These texts are perfect for everyday professions of love and affection, as well as offering support on those days when he could use a little extra inspiration and motivation.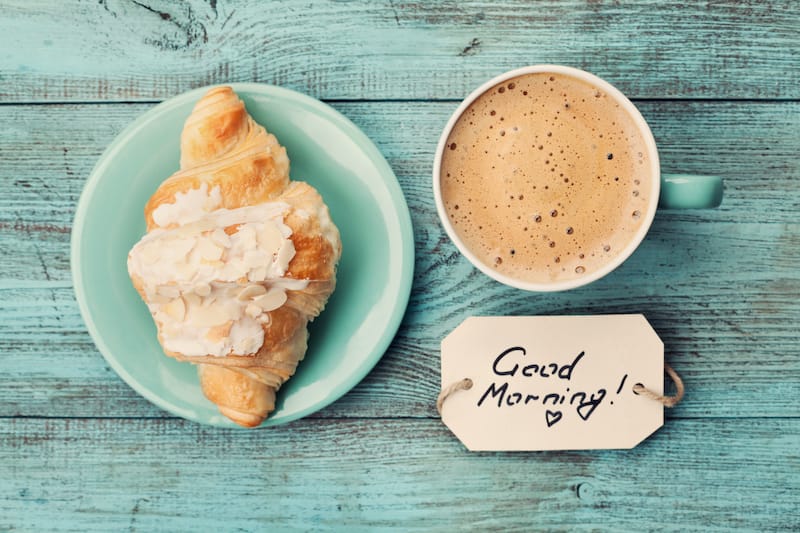 Good morning messages can help your friends and loved ones get through the bad times and celebrate the good. Whether it's some words of affirmation or a gentle morale booster, these messages will let him know how much you care about him. They're also great for flirtation, confirming a date, and letting him know how you'll be thinking about him all day.
Many mornings, you'll already know just what to say to make him smile. However, everyone has those tongue-tied days when we could use a little help with what to write in a good morning message. Here, you'll find funny messages to make him laugh, romantic messages to tell him how much you love him, "I miss you" messages for when you're separated, and motivational quotes to add some verve to his morning routine.
Use the links below to jump to a particular section, or scroll down the page to see the entire collection of good morning messages for him.
Short & Sweet |
Funny |
Romantic |
Distance |
Motivational |
For Friends |
Quotes
Short & Sweet Good Morning Messages for Him

A morning text is sometimes a greeting, sometimes a love note, and often a way of supporting him. Any of these good morning messages for him will help him start his day right.
Morning, handsome. Hope you slept well.
Good morning, babe! I'll be thinking of you all day.
Up and at 'em, babe! The sun is shining and it's time to start the day.
Good morning to the kindest man in the whole world.
Good morning, sunshine. Hope it's a fun and beautiful day.
Happy morning, sweetheart! Thanks for always being yourself.
Morning, babe. It's about time to get up, and I have some coffee for you.
Call it cliché, but I can't stand starting the morning without saying hi to you!
Hey handsome, can't wait to see you today.
Each morning, I wake up incredibly grateful to have you by my side. Hope your day starts off as good as mine did.
Wishing for a bright and shining morning to the guy who makes my every day so wonderful.
The only things I need to start the day are a cup of coffee and a kiss from you.
Just checking to see if my handsome man actually managed to wake up on time this morning.
Work's a bummer today, but I just thought of you, and I already feel better. Hope you're having a better day than I am.
Hi sweetheart. I hope your day is going well. Looking forward to seeing you this evening to hear all about it.
Here's a little message to help you start your day off smiling.
I know I just woke up, but I'm already missing you so much. Can't wait to see that smile of yours.
Good morning, hon. I hope today is as bright for you as all the sunshine you bring to my life every day.
Good morning! And here's to the beginning of another day.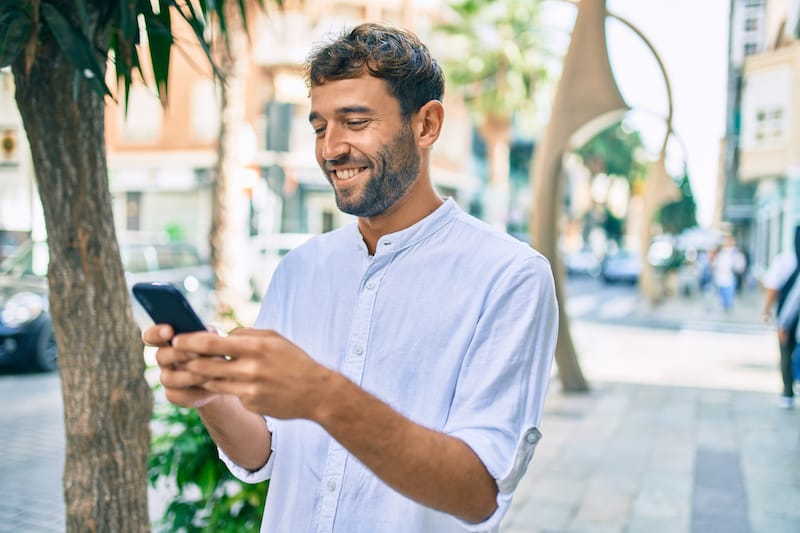 Funny Good Morning Messages to Make Him Laugh

Maybe he's always loved your sense of humor – well, here's the time to let that shine. Laughter is the surest way to make him smile and add a skip to his step in the morning. Send him a funny good morning message that will make him think of you all day.
Good morning to my own personal prince charming. You're the best frog I ever kissed. Love ya, babe.
It's so beautiful watching you sleep. You look so peaceful, sprawled out over the unmade covers, with that gob of drool pooling on the pillow. Truly majestic. Now wake up, sleepyhead.
Hey! Are you awake? Remember, if you don't call in sick in the next half-hour, you're obligated to start your day.
GET UP! GET UP, GET UP, GET UP! GET UP GET UP! From: Your super sweet and loving girlfriend who only wants the best for you.
Hey, just want to say thanks for leaving me alone until I've had some coffee. You just get me, right down to how grumpy I am in the morning.
Morning to my favorite superhero. Your next mission: Text me back and save me from being bored at work!
I'd wish you a good morning, but I bet it'll be noon before you actually get up. So, let's go with 'good afternoon' instead?
I meant to make you a huge breakfast so that you can smell the bacon cooking all the way in bed. But, unfortunately, I slept through the alarm. Here's an apple instead.
What's that you're smelling? Oh nothing much, just your girlfriend making you the most delicious meal known to mankind. Aka, breakfast. Wake up and smell the bacon!
Ring! Ring! This is your wake-up call. Get up, get dressed, and don't forget to grab a kiss from me on your way out!
"I wake up every morning at nine and grab for the morning paper. Then I look at the obituary page. If my name is not on it, I get up."
~ Benjamin Franklin
"Life is just one cup of coffee after another, and don't look for anything else."
~ Bertrand Russell
"I never laugh until I've had my coffee."
~ Clark Gable
"It's not until my third cup of coffee that I am fully awake and willing to face the consequences of that condition."
~ Laura Bohannan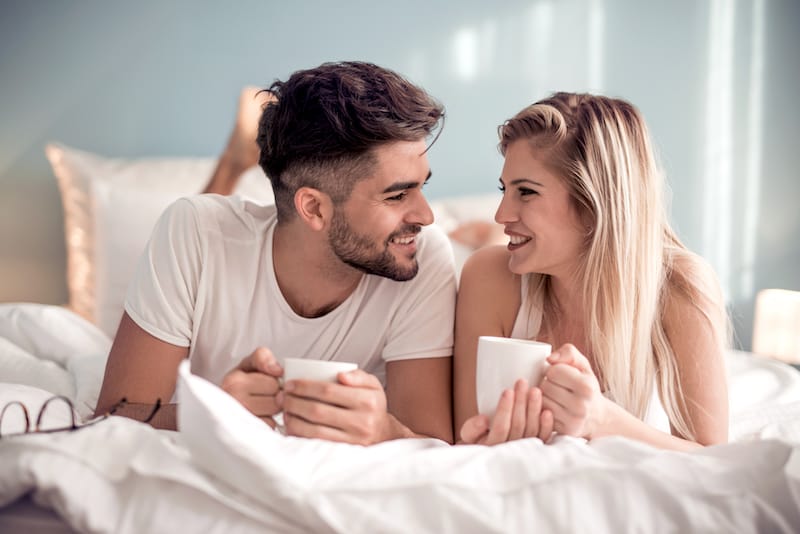 Romantic and Flirty Good Morning Messages for Him

Sometimes, when you want to make him smile over text, all it takes is to tell him what he means to you. Affirmations and a touch of flirting can have him floating on a cloud all day, maybe even the whole week. Not to mention, it keeps you in his thoughts as well.
Morning, handsome. Dream of me last night? I sure hope so.
I can't help thinking about you without smiling.
Being around you, all my problems seem small and troubles just fall away. Thanks for brightening my evening last night. I hope you have a beautiful morning.
I keep writing all these good morning texts to tell you how much I care about you. But they all boil down to three words: I love you.
Waking up next to you makes it very hard to want to get out of bed.
Good morning, sleepyhead. I'm already counting down the hours until we can get back into bed. How about you?
Just woke up, and you were the first thing I thought of. Next time, I want to wake up in your arms.
Sorry I had to run out. I'll see you right back where I left you in give-or-take 12 hours. Have a wonderful day!
Between this mug of coffee and the memory of kissing you this morning, there's no way I could have a bad day.
Good morning, love. I don't know what I did to deserve to wake up alongside someone like you. All I know is that I'm grateful for it every day.
Let's start this morning the same way we celebrate every day: with a kiss. Love you, babe.
I'm so glad you were here to keep me warm last night.
Has anyone ever told you how beautiful you look in the morning?
Good morning to the hottest guy in the world. Can't wait to see you today.
I'll live happily as long as all my days begin with you wrapped around me in the morning.
Good morning! I'll let you in on a secret. I was dreaming of you last night. It's just such a treat to hang out with you, even while I sleep.
I'll just be here imagining that I'm still cuddling with you right now.
Good morning, babe. Being with you is the one dream that I never want to wake up from.
"Let me wake up next to you, have coffee in the morning, and wander through the city with your hand in mine, and I'll be happy for the rest of my little life."
~ Charlotte Eriksson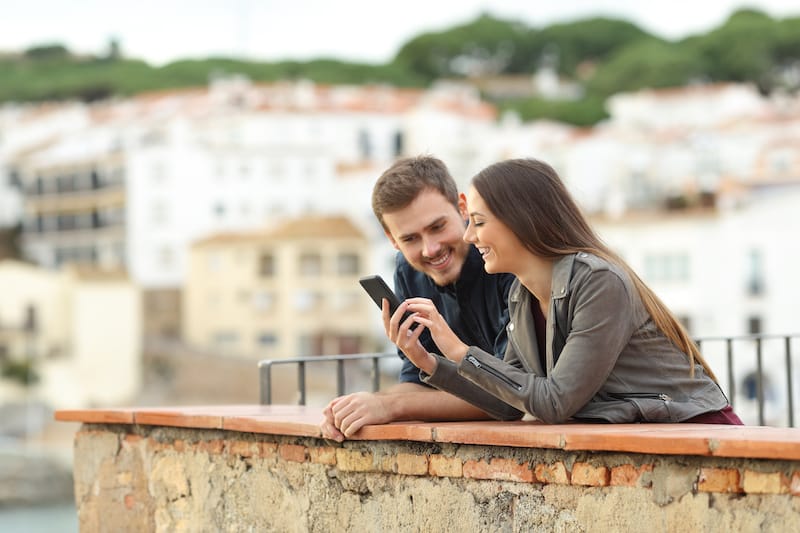 Good Morning Messages for Long Distance Relationships

There's nothing easy about being far away from your loved ones. It can be difficult to say how you feel in a text message. Open communication is the key to a strong long-distance relationship, and these messages are a great way to start the conversation. These good morning messages for him let him know that you miss him and give him something to look forward to when you see him again.
Are you up yet, love? Sending all my hugs and kisses. Miss you.
The best part of any morning has always been enjoying a cup of coffee with you. It's okay – now we can do it through video chat until we can be together again.
I wish I could cuddle with you while we snooze the alarm and pretend we didn't hear. Remind me again, how much longer until I get to see you?
Time to call the doctor. I think I have pangs from missing you. Please send me a picture of your handsome face to relieve the symptoms.
Wish I were there to see how cute you look in the morning.
Just so you know, I'm missing you and hope you're having a lovely morning.
Though you may be facing today without me, know that I'm always with you in spirit. Stay strong, my love.
Wish I were there hitting snooze with you.
You have no idea how much I wish we were together right now, having breakfast in bed and starting an adventure for the day.
No fair! I was dreaming that I was kissing you, and then I woke up alone. Next time you hug me, I promise I won't ever let go.
The whole house feels so empty without you here. Counting down the minutes until I can see you again.
Even though I woke up so far from you, it feels like no distance at all because I hold you in my heart.
Another morning and another day closer to seeing you again.
Hey lover. Tell me, are you missing me like I'm missing you right now?
Every morning, I feel the emptiness of the space you've left beside me. Come home soon, love.
The distance doesn't bother me because our love is so special and incredible. I hope you're having a wonderful morning.
Good morning, handsome. Even though I won't get to see you today, I'll be thinking about you all day long.
"Morning without you is a dwindled dawn."
~ Emily Dickinson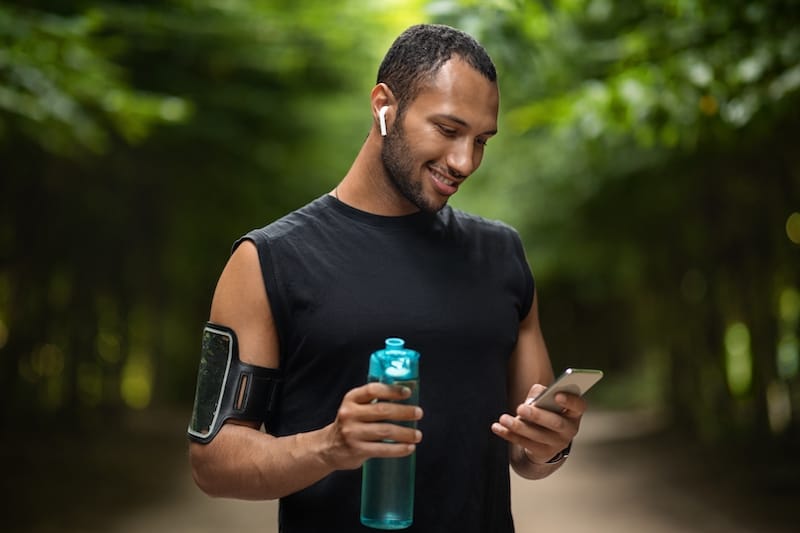 Motivational and Inspiring Good Morning Messages for Him

Does he have a big day ahead? Do you think he could use a little encouragement? The morning, as he's getting out of bed, is the perfect time to send him a little uplifting affirmation and motivation. Inspirational messages will remind him that he's capable of anything and to keep reaching for his goals even through the difficult days.
Rise and shine! I'm sending positive vibes your way and manifesting a fantastic day for you.
Every morning, you encourage me to be my best. Now, it's my turn! You got this!
Remember: You're unstoppable and you're going to nail it today!
Good morning to the sweetest, the most irresistibly charming and charismatic, and the most capable guy I know. Have a killer day today!
Good morning, handsome. I hope you have a productive morning.
Good morning to the most cool, calm, and collected guy I know.
You can do this! Knock 'em dead!
I'm sending you the strength and energy to deal with all the challenges that today might hold.
Good morning, babe. Let me know what you need to take on the day, and I'll help in any way I can.
Just a reminder: You're the bravest, strongest, and kindest person I know. The world shines brighter with you in it.
It's a new day! There's nothing stopping you from going out there and making it yours.
"What you do today can improve all your tomorrows."
~ Ralph Marston
"Don't be afraid to fail; it's proof you'll soon be successful."
~ Barbara Corcoran
"Let today be the day… You free yourself from fruitless worry, seize the day and take effective action on things you can change."
~ Steve Maraboli
"In the end, it's not the years in your life that count. It's the life in your years."
~ Abraham Lincoln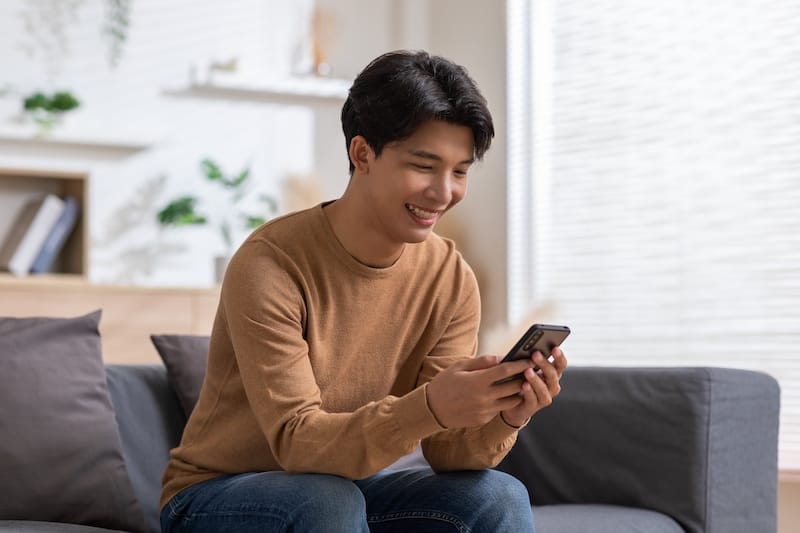 Platonic Good Morning Messages for Friends

Who could resist a kind note and a little encouragement in the morning? Whether you're teasing or motivating, a morning text to a friend is a great way to keep in touch. It also starts the conversation for plans that you might have later.
Morning! I hope it's a good one.
Thanks for everything. I'm so grateful and proud to call you my friend.
Hope you're feeling better this morning.
Sending warm morning wishes to one of the best guys I know.
Hey buddy, I was just thinking of you and hope you're having a great morning.
Just want you to know that I'll be right here whenever you need me.
Hey bud, it's been so great getting to know you. I hope you have an awesome day.
Sending you all the positive vibes for an incredible day ahead!
"A day without laughter is a day wasted."
~ Charlie Chaplin
Thanks for always giving me a reason to laugh when I need it.
"I get a couple cups of coffee into me and weird things just start to happen."
~ Gary Larson
This reminds me of our coffee-fueled adventures! Hope you have a great day.
Inspirational Good Morning Quotes for Him

These famous and inspiring quotes talk about what it means to get up in the morning, how to stay motivated, and even the virtues of coffee for those addicts who can't start the day without it. They're great good morning messages for him, especially when you're unsure what to say.
"Morning comes whether you set the alarm or not."
~ Ursula K. Le Guin
"I like coffee because it gives me the illusion that I might be awake."
~ Lewis Black
"When you arise in the morning, think of what a precious privilege it is to be alive, to breathe, to think, to enjoy, to love."
~ Marcus Aurelius
"Find something you're passionate about and keep tremendously interested in it."
~ Julia Child
"You've got to get up every morning with determination if you're going to bed with satisfaction."
~ George Lorimer
"Live this day as if it were your last. The past is over and gone. The future is not guaranteed."
~ Wayne Dyer
"Our greatest glory is not in never falling, but in rising every time we fall."
~ Confucius
"I like freedom. I wake up in the morning and say, 'I don't know, should I have a popsicle or a donut?' You know, who knows?"
~ Oscar Nunez
"Morning is an important time of day because how you spend your morning can often tell you what kind of day you are going to have."
~ Lemony Snicket
"I'm always thinking about creating. My future starts when I wake up every morning. Every day I find something creative to do with my life."
~ Miles Davis
"The biggest task in the morning is to try to keep my headspace from being invaded by the outside world."
~ Austin Kleon
"I arise in the morning torn between a desire to improve the world and a desire to enjoy the world."
~ E. B. White
"Even the worst days have an ending, and the best days have a beginning."
~ Jennifer Coletta
"A day is a day. It's just a measurement of time. Whether it's a good day or a bad day is up to you. It's all a matter of perception."
~ Donald L. Hicks
"The day will be what you make it, so rise, like the sun, and burn."
~ William C. Hannan
More Good Morning Messages for Him

Looking for more inspiration for good morning messages for him? Find funny, romantic, and heart-warming wishes and poems on these pages as well:
Love Quotes for Him
Love Messages for Him
Funny Love Quotes
Cute Boyfriend Quotes
Valentine Card Sayings
Anniversary Quotes
Anniversary Poems
Happy Anniversary Messages
Free Printable Anniversary Cards

Check out our sweet collection of printable anniversary cards to give to your husband, wife, or partner, and let them know how special they truly are! There are also some lovely card designs to celebrate your parents' or a friend's anniversary too.