Tin Gift Ideas to commemorate your 10th Anniversary
A decade of marriage is certainly something to celebrate.  Some couples decide to renew their vows or go on an luxurious holiday.  Here at Bags of Love we don't organize parties or getaways, but we do offer a couple of gifts in line with the theme of the 10th anniversary – tin.
Traditionally the 10th year of marriage is marked with the gift of tin. This is to represent the durability and flexibility that comes with a loving marriage. So we're keeping the tradition alive, but with a modern and more personal take.
Customised Tin Box Made For a Lifetime
To celebrate your 10 years together, Bags of Love offers a custom printed tin box.  Ideal for keepsakes, or storing art and craft items, our boxes come in three sizes – A6, A5, and A4.   You design the lid online using your favourite photo memories or artwork, with the option to add a personal message.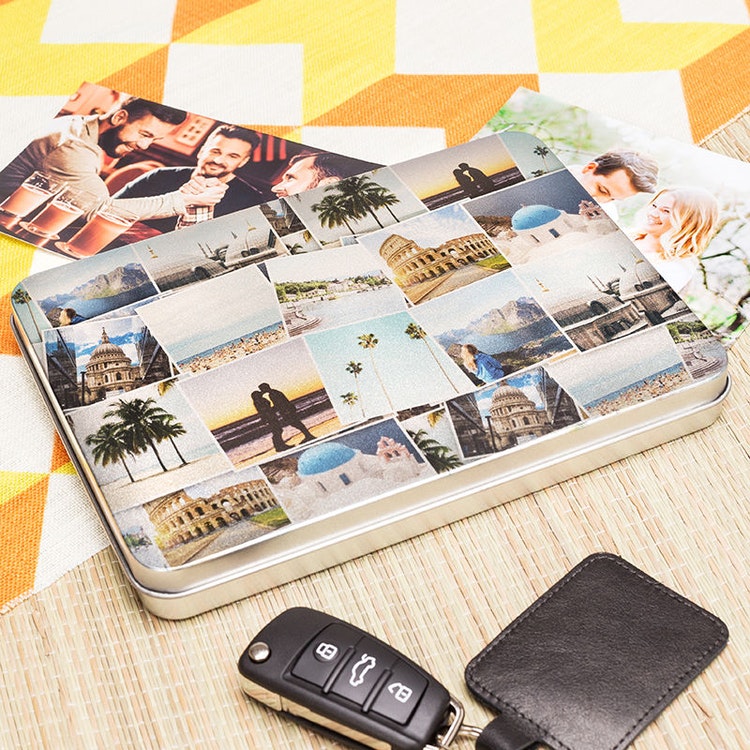 See how creative you can be and design a personalised tin that speaks to your loved one.  Our gift tins are the perfect gift to compliment to the holiday, jewellery, or dinner you will be treating your partner to.   Why not present the anniversary trip tickets or gorgeous jewellery inside the tin box, as an extra special gift box to mark the occasion?  Our personalised tin box is both useful and beautiful – and your thoughtful design will appear in clear detail on the lid.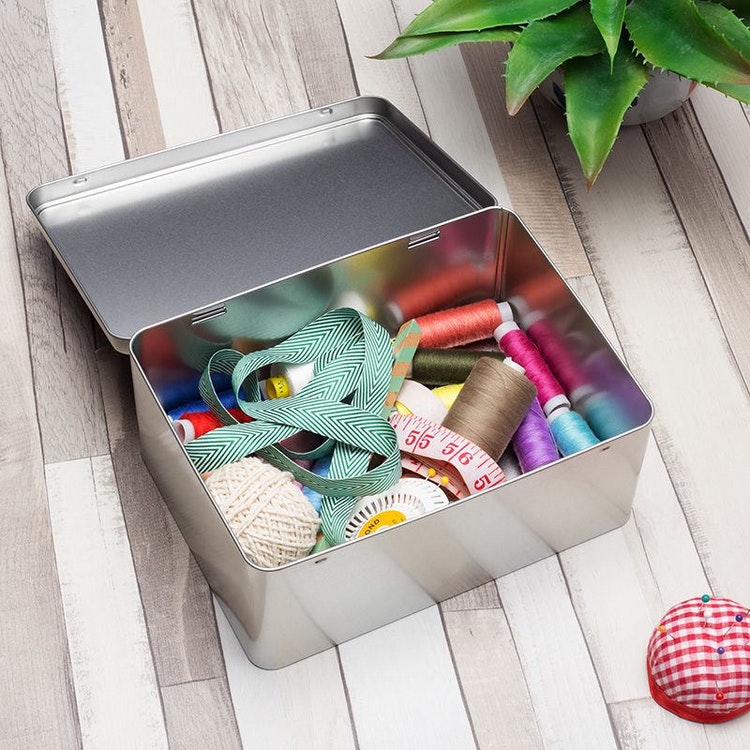 Personalised Sweet Tin
If your partner has a serious sweet tooth, why not treat them to a fun personalised sweet tin.  Each tin includes Jelly Bean Factory treats, totally natural and in a variety of fun flavours.  While this might not be the most expensive of gifts, its a fun way to stick the the traditional tin theme and would compliment a variety of other gift ideas.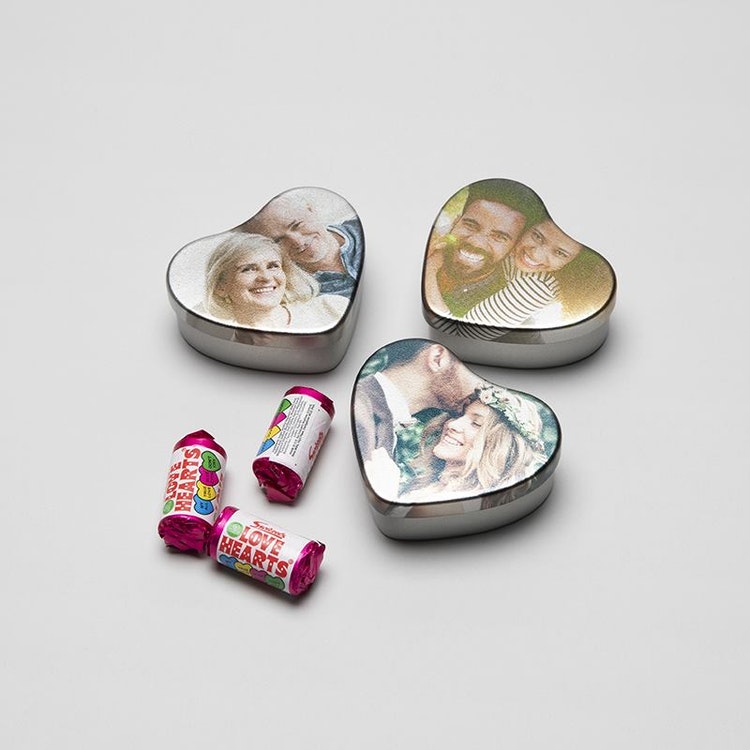 You can personalise the lid with photos, poetry, or artwork to create a gift tin your partner will cherish.  Plus, after all the sweets are gone it makes a perfect pencil box for the home or office.
If you are celebrating your 10th anniversary with a vow renewal ceremony, our sweet tins are the ideal party favour for guests.  Have your friends and family literally taste all the sweet memories you have shared together.
Personalised Biscuit Tin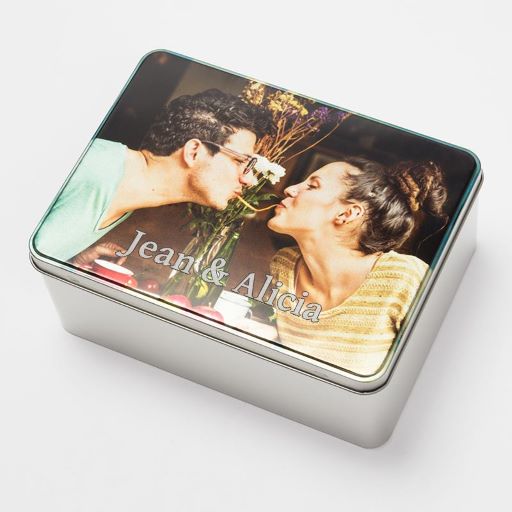 Who doesn't love a cup of tea and a biscuit? This personalised tin is the perfect gift for your partner on your 10th anniversary. Customise your biscuit tin with a gorgeous photo of the two of you, or perhaps a photo of a place you travelled to that brings back fond memories. Every time you'll look at this tin you'll be reminded of how much you mean to one another! All photos will be printed straight onto the metallic lid, making for a stylish, etched look that you won't see anywhere else. Not only will your partner thank you, but your kitchen will too, because this is the ultimate accessory.
Creative Custom Pencil Tin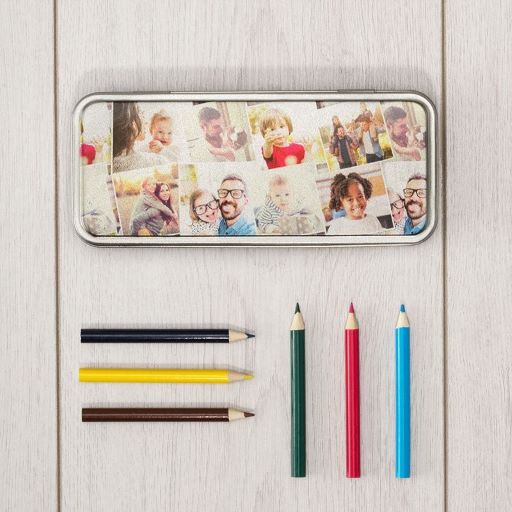 Is your partner a budding artist? Or just likes jotting everything down? If so, this is the perfect gift for them. Design your own custom pencil tin box by uploading a signature photo of your choosing and even text too! If you're stuck on what photo to choose, not to worry; you can upload multiple pictures to create a photo collage. It couldn't be easier to do using our pre-set templates, and your partner will think you've spent weeks designing it! Not only is this bespoke pencil tin stylish, but it's also super sturdy because we've chosen the strongest metal as it's base.
Tempting Tea Caddy
Calling all brew lovers! This personalised tea caddy is a special way to show your partner that you care. Design your own with a signature photo of you and your loved one! Or how about printing an inside joke or anecdote on the caddy? Every time you go to put the kettle on you'll have no choice but to smile! Our tea caddy is made with high-quality metal and it has a hinged lid which will keep all your delicious tea fresh!
Cool and Custom Cake Tin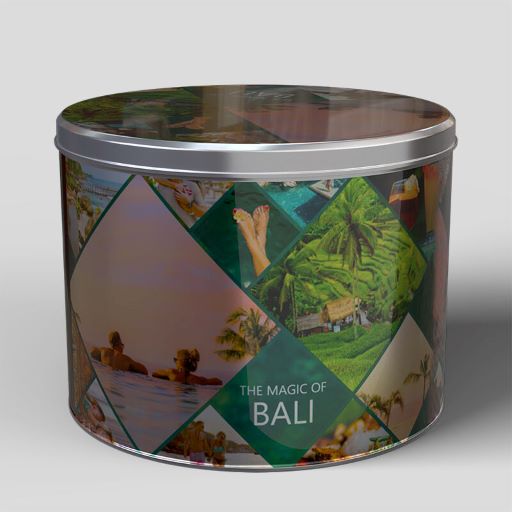 Is your partner a keen baker? Or just loves to eat sweet treats? If so, this is the perfect anniversary gift for them. Design a collage of sentimental memories and even add text to make this large round tin completely signature for your husband or wife. This isn't specifically for cakes either; you can store sweets, cookies or whatever nibbles your heart desires! You can choose between a variety of gorgeous colours, and the base is made from recyclable, rustproof metal. Get creating today!