This post may contain affiliate links. Read our disclosure page for full details.
Are you planning a romantic couples getaway? Then you need the perfect place to get away to, and what could be better than landing in one of the most romantic hotels in the world? 
Some romantic hotels are geared more towards privacy and intimacy, and others cater to adventurous couples in search of exciting outings together. Whether you are planning a romantic babymoon, an anniversary getaway, a honeymoon, or a just-because-we-can romantic couples getaway, there's a romantic hotel for you on this list of the 12 most romantic hotels in the world!
Most Romantic Hotels in the World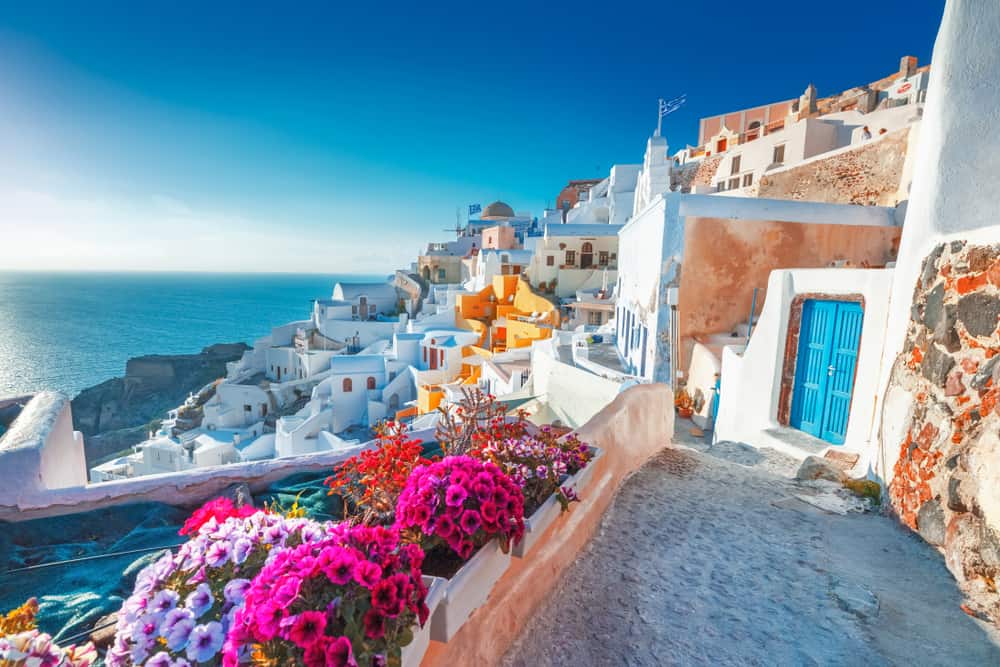 Located on the stunning island of Santorini, Andronis Boutique Hotel is hands down one of the most romantic hotels in the world, and is a favorite spot for honeymooners in search of privacy, luxury, and spectacular views! Rooms are clean and crisp, featuring brushed white walls and amenities that include private verandas, private jacuzzis, and so much more! Some rooms even include private pools, so be sure to scope out all your options before making your final decision!
Hungry? Head to Andronis' onsite Lauda Restaurant,  the perfect spot for a romantic dinner for two. As easy as it is to find complete satisfaction on the grounds of this luxury romantic hotel, don't forget there's the entire island of Santorini just waiting to be explored!
CLICK HERE TO CHECK PRICES & BOOK
Australia's Silky Oaks Lodge is one of the most romantic hotels in the world both for the unique and romantic lodgings available and the awe-inspiring beauty of the rainforest that surrounds it! With room options that allow you to stay in the rainforest canopy, your romantic getaway is transformed into a next-tier experience with delightful features like floor-to-ceiling windows and outdoor bathtubs. 
Onsite dining options include contemporary Australian fare and a craft beverage bar, both serving up delights that showcase the flavors of the region. Looking to take a healing journey? Healing Waters Spa provides the perfect spa experience, with a wide variety of services inspired by local healing traditions, but beyond the grounds are journeys of all kinds, including exploring the Great Barrier Reef, the Daintree Rainforest, and so much more!  
CLICK HERE TO CHECK PRICES & BOOK
Perfectly situated on the brilliant Sea of Cortez in Los Cabos, Mexico, One & Only Palmilla Resort is everything a couple could want in a romantic getaway! You and your One and Only have your choice in accommodation between resort rooms with private terraces and sweeping views, suites with a private infinity pool, and private villas with their own exclusive stretch of beach! And in Cabo, safe swimmable beaches are a rarity!
This luxury resort is absolutely one of the best places to stay in Cabo. 
Luxury amenities are found throughout the resort with thoughtful touches like personalized aromatherapy turndown service, complimentary water activities, daily fruit delivery to your room, and so much more!
Onsite dining options include a dramatic cliffside restaurant, a poolside al fresco setting, private, personalized, romantic dining experiences, and guests are even invited  to customize their own in-room refreshment center with their favorite snacks and beverages; a fun, updated twist to the traditional minibar. All at the One & Only Palmilla Resort!
CLICK HERE TO CHECK PRICES & BOOK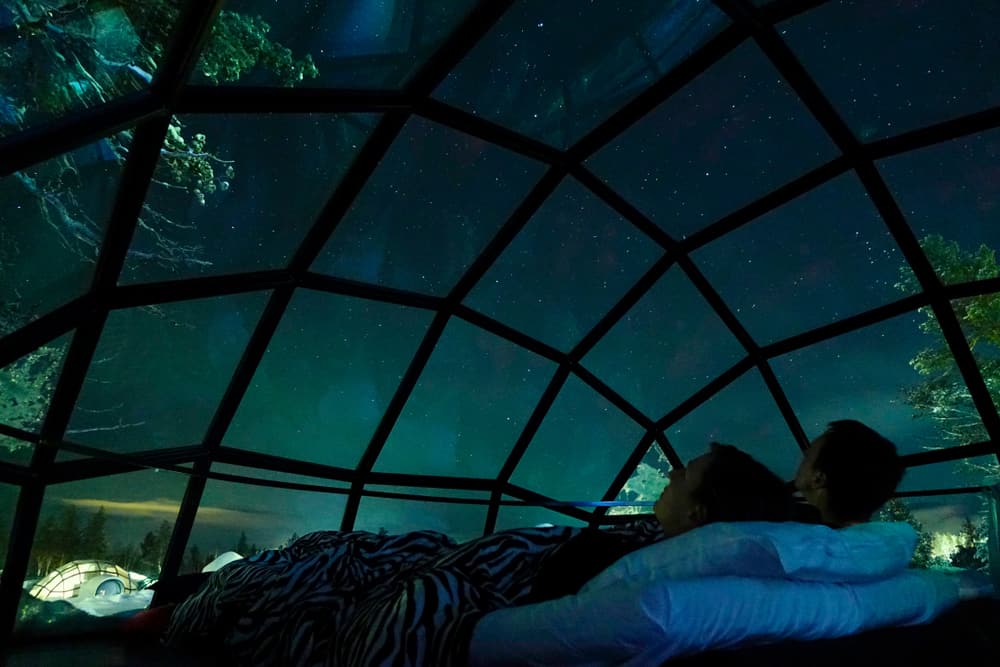 For a refreshingly unique romantic place to stay, consider checking out the Arctic Snow Hotel & Glass Igloos in breathtaking Finland! The snow hotel is located near beautiful Rovaniemi, where you get the one-of-a-kind experience of sleeping in a room constructed entirely of snow and ice! Enjoy a little time in the traditional Finnish sauna before trying out one of the onsite restaurants, and finish up the night by snuggling up next to your love in your fleece-lined high-quality sleeping bags. You'll even receive a diploma the next morning for staying the night in arctic conditions!
If you're looking for a little more warmth, check out the gorgeous glass igloos next door for a memory-making adventure where you can sleep under the stars beneath the thermal-glass heated roof, so keeping snuggly warm won't be a problem! In addition to the Finnish sauna, you'll also find snow saunas and outdoor jacuzzis to really soak in the experience; don't forget to set the aurora borealis alarm before bed so you and your love can be notified if the gorgeous lights are dancing above your heads in the night!
CLICK HERE TO CHECK PRICES & BOOK
Tucked away in the rolling hills of the charming Tuscan town of Cortona, Relais La Corte Dei Papi is one of the most romantic hotels in the world for its luxury offerings, stellar service, and picturesque location. With rooms that feature private balconies, high-end furnishings, and luxury options like in-room Turkish spas and jacuzzi tubs, Relais La Corte Dei Papi is the perfect spot for a romantic getaway! 
The onsite restaurant is included in the top 10% of recommended restaurants on Trip Advisor, an admirable but not surprising placing for a restaurant that uses only the finest and freshest of ingredients to prepare their gourmet meals; whether you're seated in the intimate indoor stone-walled cellar-turned-dining room or outdoors surrounded by the idyllic landscaping, you'll find there's no escaping romance at the Relais La Corte Dei Papi, not that you'd want to, of course! Add on a wine tour, cooking class, or day out shopping in Cortona to complete the experience.
CLICK HERE TO CHECK PRICES & BOOK
A seaside retreat on the beautiful American island of Nantucket, The Wauwinet is an adults-only boutique hotel offering a romantic place to stay for any couple looking for a cool, coastal island stay. One of the most romantic hotels in the USA, you'll find thoughtfully generous amenities like aromatherapy bath products, 400-thread count Italian linens, and private beach access for hotel guests. 
The Wauwinet's award-winning restaurant serves up fresh-caught seafood daily, making it the perfect spot to grab a bite after a relaxing day of spa treatments at their sister site. Of course, there's also the rest of the island of Nantucket to explore, with so many fun things to do and see, including the beautiful beaches. A couples getaway to the Wauwinet is considered one of the most romantic things to do in the Bay State; don't forget to add on a Ride & Rosé Package for a little extra romance!
CLICK HERE TO CHECK PRICES & BOOK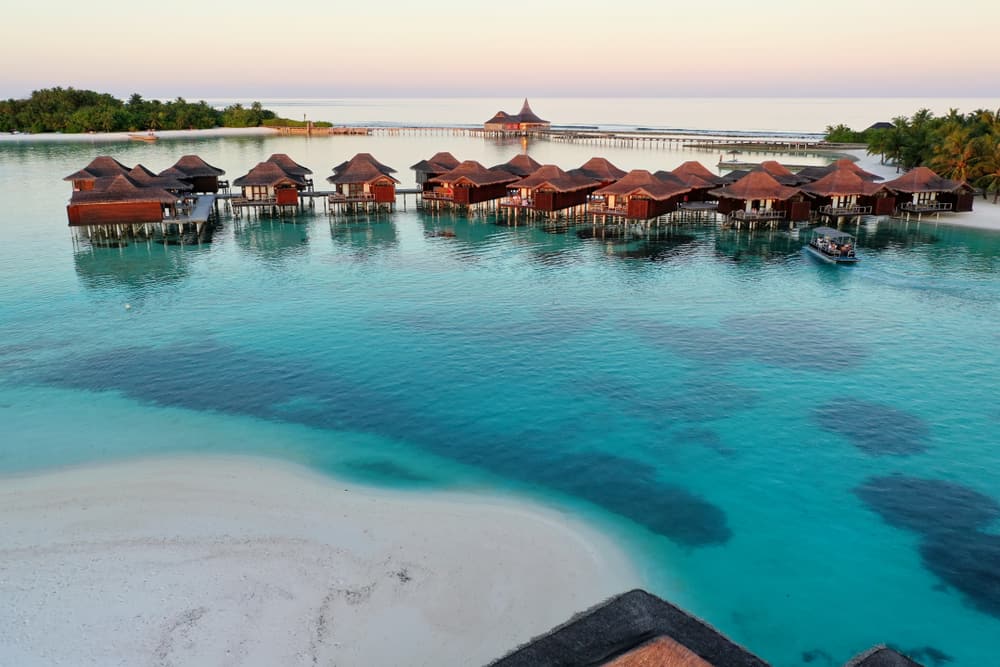 When looking for the most romantic places to stay in the world, most eyes will turn towards the lush Maldive islands for its picture-perfect beaches, swoon-worthy turquoise waters, and all-inclusive luxury resorts like Anantara Veli Maldives Resort, an adults-only romantic vacation destination that promises serenity and romance to the couples that make the 30-minute speedboat ride from Velana International Airport.
Beautiful overwater villas and bungalows offer spectacular sunset views and private access to the crystal-clear lagoon, and thoughtful amenities include a complimentary breakfast each morning, a full-service spa featuring Ayurvedic treatments, onsite bars and restaurants, overwater hammocks, and a full list of add-on offerings like parasailing, snorkeling, and so much more! Romance packages include sweet touches like a Sunset Dolphin Cruise and candlelit dinners by the sea, exactly what you might expect from one of the most romantic hotels in the world!
CLICK HERE TO CHECK PRICES & BOOK
With a picturesque location nestled on the cliffs of the artist's village of Gordes, La Bastide is one of the best romantic getaways in the world due to both its fantastic offerings as an elegant, luxury hotel, and its spot in one of the most romantic regions of the world, Provence. Whether you choose a room, suite, or villa, the accommodations at La Bastide offer an air of countryside romance with 18th-century antique details and options for fireplaces and views of the beautiful village below.
There are several onsite dining options, including a mouth-watering brunch bar, romantic on terrace dining at L'Orangerie, and more, all expertly prepared by La Bastide's gourmet chefs to please all palates. In addition to the wide array of treatments and services available at the onsite world-renowned Sisley Spa, you'll also find romance beyond its grounds with lavender fields and storybook villages to explore with your sweetheart.
CLICK HERE TO CHECK PRICES & BOOK
The only adults-only resort in Hawaii, Hotel Wailea is the perfect romantic place to stay in Maui for any couple looking for privacy, luxury, and natural beauty at every turn on its 15-acres of meticulously manicured grounds. Every single suite at Hotel Wailea comes standard with spectacular ocean views and your own private lanai so you and your love can enjoy the tropical breeze together all day and all night. 
Hotel Wailea offers guests a variety of options when it comes to dining, including the coveted Treehouse location for an intimate, unique romantic dining experience for you and your favorite person to enjoy 7 courses of expertly-prepared Hawaiian cuisine under a canopy of mango trees. There are so many romantic things to do on Maui, but Hotel Wailea can help set up activities such as sunset sailing and Kiawe Nights, a traditionally-prepared Hawaiian meal served outdoors on the Sunset Lawn. Hotel Wailea is the perfect host for a romantic couples getaway!
CLICK HERE TO CHECK PRICES & BOOK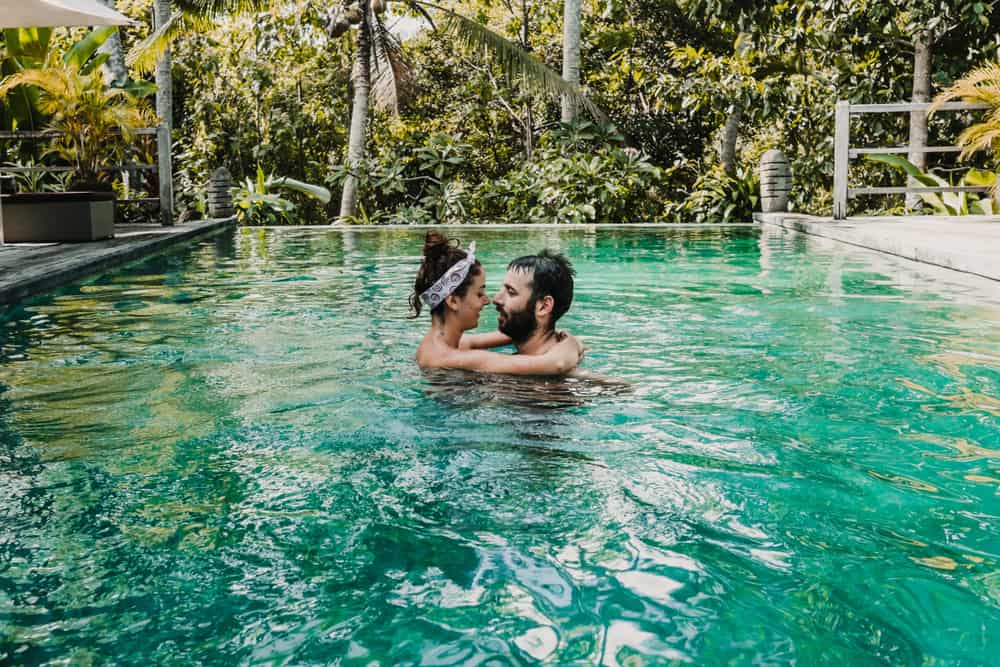 The perfect setting for a romantic couples trip, Kayon Ubud Resort is perfectly situated in breathtaking Bali, in an area that is revered for its traditional spiritual and natural healing properties, lending itself well to any couple in search of a romantic hotel where they can find a deeper connection both to each other and themselves. 
Rooms at Kayon Resort feature a soothing palette of stone, bamboo, and whitewashed furnishings that make any room feel lavish and spa-like, but if you book a River Edge Pool Villa, you'll have your own private infinity pool for you and your sweetheart to share! Enjoy daily yoga, traditional Indonesian barbeque dinner, visits to the temples, rice fields, and local village, and indulge in the nurturing spa services offered at the onsite Serayu Spa; for couples in search of a romantic hotel that combines rest, relaxation, and romance, the Kayon Resort is it!
CLICK HERE TO CHECK PRICES & BOOK
Beautifully situated in the Scottish countryside, Nithbank Country Estate is a 5-star luxury estate inn that is luxurious, elegant, and lavishly comfortable. Elegant touches abound in the guest rooms with antique furnishings and original period features, and generous amenities include a full Scottish breakfast, homemade scones, organic toiletries, and so much more at this elevated Scottish B&B. 
Surrounded by the stunningly scenic Scottish hills, you and your partner will feel as if you've arrived in a fairy tale, and with Nithbank helping you plan your activities, there will be no shortage of fun things to do just beyond the door of this romantic country estate. Tour local castles and landmarks, visit the vibrant village of Thornhill, or just explore the gorgeous woodland, river, loch, and forest surrounding this romantic estate! 
CLICK HERE TO CHECK PRICES & BOOK
With so many accolades being heaped at its doorstep, it's a wonder guests can still get in the door! Voted World's Most Romantic Retreat, World's Most Romantic Hotel, and more, Akademie Street is one of the Western Cape's most romantic places to stay. Rooms are bright and airy with luxury touches everywhere you look; for an extra-luxe experience, rent one of the cottages for a private courtyard with a plunge pool, a wood-burning hot tub, and a free-standing hand-made copper bathtub. Is it possible to be any more pampered than this?
The village of Franschhoek is known as the Culinary Capital of South Africa, so not only is there a mouth-watering breakfast and evening drinks served onsite, but within walking distance are a variety of world-class dining options! The staff at Akademie Street are always ready to help prepare an expertly-planned itinerary exploring lovely Franschhoek and its beautiful wine farms, spas, museums, galleries, and more. A stay at Akademie Street might just be the romantic getaway you didn't even know you and yours needed!
CLICK HERE TO CHECK PRICES & BOOK
Are you looking for the perfect couples getaway to treat your partner? Whether you're looking for something exotic and unique, or simple and relaxed, you're sure to find the perfect romantic hotel to host your romantic getaway on the list above; after all, you can't possibly go wrong choosing from a list of the most romantic hotels in the world, right?
Read these next: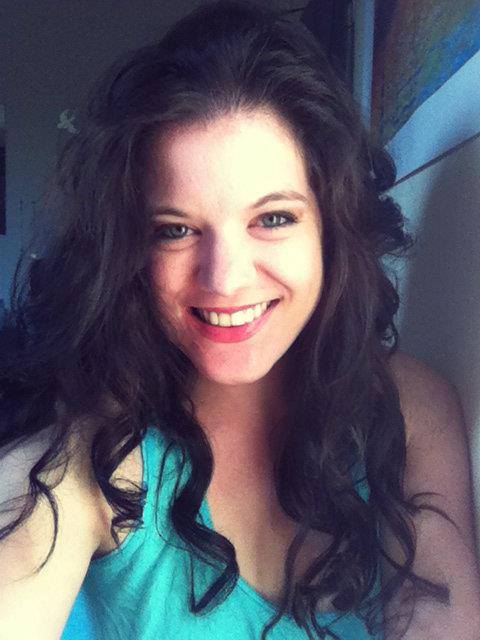 Amy Hartle is the co-founder and owner of Two Drifters, where she blogs about romantic and couples travel, relationships, honeymoons, and more. With a Master's in English and a BA in Musical Theatre, Amy loves to write quality content as well as to entertain, and she hopes to do a bit of both here on the blog! Amy lives in North Carolina with  her husband Nathan, and son Malcolm. When not working on their sites or traveling the world, the Hartles can be found cuddling, reading, and hanging out with their cats.