Happy Valentine's Day, everybody!
(Yes, you can be Grommet's Valentine this year!)
Whether you've found the love of your life or are still waiting for "the one", these 20 amazing Valentine's Day gifts for him and for her are ultra-popular and ready to ship.
Tell your significant other you love them with these popular 2023 Valentine's Day gifts.
Enjoy!
Do you have trouble falling asleep and getting truly DEEP sleep because you're nervous about getting her the wrong thing for Valentine's Day?
Relax, PureRoutine's Deep Sleep Pillow Spray has you covered!
Simply spray this calming mist on your pillow just before bed to experience natural relaxation as you're closing your eyes.
It gently evaporates into the air to help you breathe it in and won't make your pillow wet.
The secret lies in its unique mix of French Lavender, Chamomile, and Vetiver oils which allow you to fall asleep more quickly and stay asleep longer.

All 3 are clinically proven to help induce fast, deep and restful sleep (even if you're worried about buying her the wrong kind of flowers on February 14th.)
Give the gift of a better night's sleep this Valentine's Day with PureRoutine!
The deal: Get FREE shipping and $34 off this Valentine's Day with their special 6-pack offer!
You planned the perfect Valentine's Day date.
It's just you and your special someone sharing a bottle of her favorite white wine when you realize…
You forgot the ice.
With Vinglacé Wine Gift Sets, that wouldn't be a problem.
Each gift set includes a beautiful wine bottle holder and 2 glass lined wine tumblers that enhance your drink's flavor without the metallic aftertaste. 
Keep your bottles of wine or champagne perfectly chilled WITHOUT ICE thanks to premium vacuum insulation that works for hours.
The included pair of tumblers keep your drink at the perfect temperature whether you're a fast drinker or enjoy slowly savoring every sip.

The adjustable top fits almost any bottle and doesn't need to be refrigerated.
Plus, it's super portable for spontaneous date nights.
P.S. After being diagnosed with breast cancer in 2014, co-founder Alyson Haas used the strength given to her by her 2 young children to beat the disease. To help others who are diagnosed, a portion of proceeds from every sale is donated to breast cancer research!
The deal: These gift sets are incredibly popular with Grommet readers! They come in a variety of styles including Limited-Edition tennis, golf, and pickleball designs. Customization, normally $30, is FREE today with code "grommet"!
3. Bleame – The Pain-Free Hair Removal Tool (NO Shaving & NO Waxing)
Give the gift of PAIN-FREE hair removal this Valentine's Day!
Laser hair removal is expensive and waxing HURTS.
All you have to do is rub Bleame in a circular motion on any area of their body where they want hair removed.
The result?
Silky smooth, exfoliated skin without a trace of painful razor bumps.
Bleame's Nano-Crystalline technology even discourages FUTURE hair growth.
The deal: Bleame works great and is a budget-friendly Valentine's Day gift at just $34.99! Want to unlock FREE shipping? Grab their buy 1, get 1 50% off special bundle!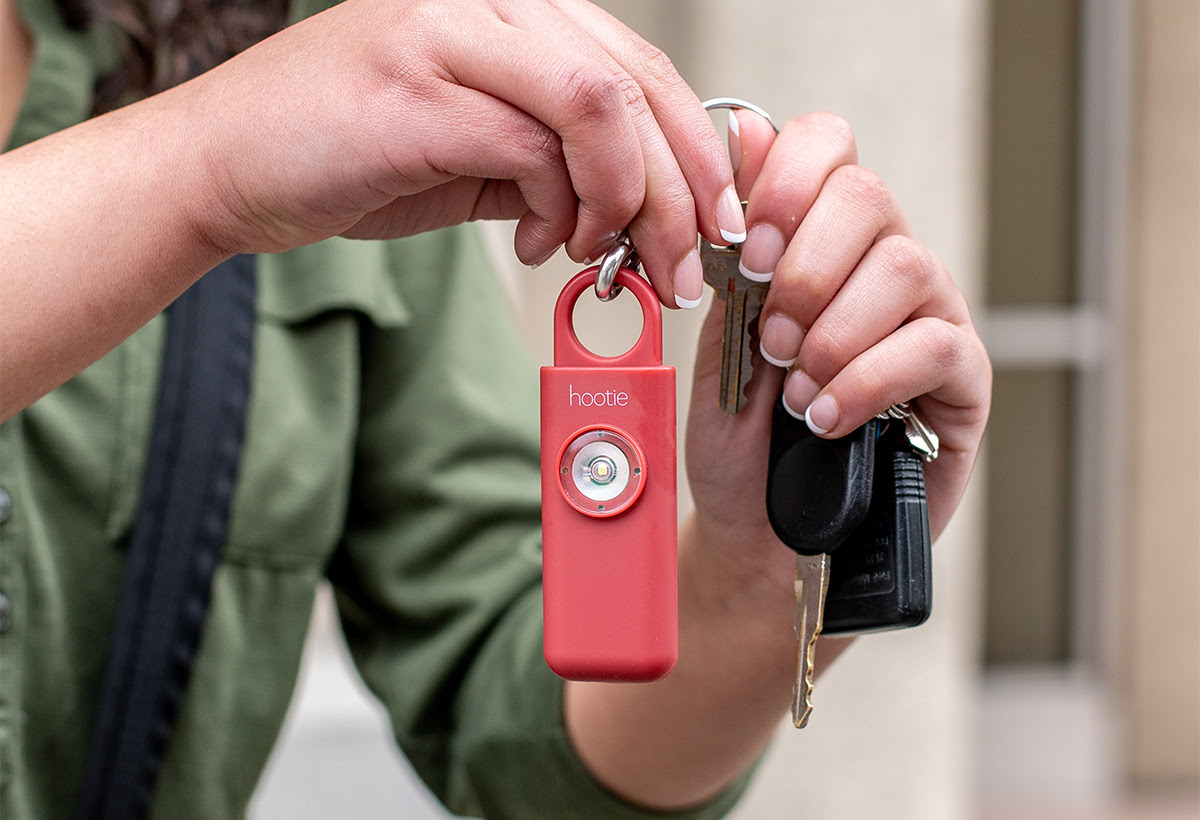 Heads up, we're about to talk about something serious:
Imagine you've been relaxing at home when your loved one calls.
Someone seems to be following them.
Sure, it could be an innocent coincidence, but what if it's not?
You feel scared, helpless, and worried for your loved one's safety.
Sadly, too many of us have experienced a situation just like this.
Hootie gives you peace of mind in scary situations.
It's a top-rated personal safety alarm that sends potential attackers on the run. 

The pulsing strobe light and ultra-loud 130db siren pierce through the air like a jet engine.

It can be activated in a split second simply by pulling the cap.
Don't put yourself at risk of saying "what if" should a nightmare scenario happen to someone you love.
Protect them this Valentine's Day with Hootie.
The deal: Personal protection shouldn't break the bank. That's why their buy 3, get 2 FREE deal saves you $60.
We're all guilty of getting ready in the car on the way to work…
But fumbling around with multiple makeup tools is time-consuming and dangerous!
The Allyoop Multi-Tasker helps you finish your on-the-go makeup routine faster and makes a great Valentine's Day gift!

It combines 4 makeup essentials in one convenient tool:
-A large angled brush perfect for blush, contour, and highlighting
-A replaceable sponge for concealer
-A rounded eyeshadow brush
-A small angled brush for lining your eyes and defining your brows
If you're strapped for time in the morning and don't want to lug your entire makeup bag around, the Alleyoop is a lifesaver.
The deal: Their buy 2, get 1 FREE offer is the perfect Valentine's Day gift for her at 33% off today!
Jessica Hollander is an up-and-coming Brooklyn artist known for her love of nature and its beauty.
She started her small business, India & Purry, to bring her beautiful paintings into your home in an all-new way.
Her luxurious scarves are printed with designs from original oil paintings that will take your breath away.
They're large enough to look fantastic as a dressy shawl or airy sarong, but versatile enough to compress into an all-season scarf.
These 100% cotton scarves make a wonderful Valentine's Day gift that will bring her more joy than a bouquet of flowers and last significantly longer.
Skip the chocolate this Valentine's Day and help her add the beauty of nature to her closet with these amazing scarves.
Valentine's Day Special: Use code "GROMMET10"  for 10% off! Plus, all orders over $150 qualify for free shipping!

After breaking up with her boyfriend, founder Kim Meckwood realized she was FAR better off on her own.
The problem?
There was no one left to carry her heavy shopping bags!
So she got to work on a simple device that lets ladies everywhere COMFORTABLY hold multiple heavy bags at once.
Click & Carry replaces your hands as the handle, holding up to 80 pounds and easing the strain on your arms, neck, and shoulders.
You can even use it over your shoulder for HANDS-FREE carry.
With this, you can bring your groceries inside in a single trip or shop for hours pain-free.
If you're flying solo this Valentine's Day, show that ungrateful ex of yours that you don't need 'em with Click & Carry!
P.S. Kim is a Shark Tank success story, scoring a deal with Mark and Barbara in December 2020!
The deal: Click & Carry sells for $14 each, but you can get their special "Valentine 2-Pack" for just $19.99! Enter code "FreeShip" to unlock FREE SHIPPING!!
Menopod offers instant hot flash relief in the palm of your hand!
At the first signs of a hot flash, simply slide the button and place it on the back of your neck for a 1-minute cycle.
You'll experience cooling relief in seconds thanks to Menopod's patented technology.
(It's like placing a soothing ice pack on your neck WITHOUT the dripping or condensation.)
This portable and discrete device is a thoughtful gift this Valentine's Day for anyone who's struggling with hot flash symptoms.
P.S. Menopod is compact and incredibly easy to use regardless of your technical savvy!
The deal: As a Grommet subscriber, you have access to an exclusive 20% off special with code "GROMMETLOVE" at checkout!
As a female founder based in San Luis Obispo, California, Christy Grierson created MagneButton and The Best Hair Clip to address clothing and hair clip issues she heard over and over and over again from women around the country.
These 2 popular solutions are a Grommet fan favorite and make amazing Valentine's Day gifts!

MagneButton is a clever scarf and sweater magnet that holds your scarves in place and your sweaters together.

They're decorative, super strong, and a stunning double-sided jewelry accent.
Not to be outdone, The Best Hair Clip curves to your head and allows you to sit back COMFORTABLY when you're driving or relaxing in a chair.
The Best Hair Clip is great for work or yoga and easily holds a quick French twist or hair knot.
Check out Christy's site to see more about BOTH of these popular products.
The deal: Get FREE shipping on orders $75+!
Introducing the most exquisite, patented sliding ponytail accessories in the world brought to you by Pulleez.
This Jewelry Charmed Gift Set Collection is the perfect Valentine's Day gift because you don't have to think about it – she's guaranteed to love it!
Pulleez doubles as "jewelry for your hair" and elevates all hairstyles.
Check out their special heart-themed sets adorned with custom metal charms and collect all of their limited-edition charms.
(Each one is ALMOST as beautiful as the lady in your life!)

P.S. We won't tell if you order one of these gift sets for yourself!
We can't tell you everything this TSA-approved multi-tool can do…
If we did, this section would be longer than a Shakespeare play.
So we'll quickly sum it up for you instead.
– 4 screwdrivers
– 3 wrenches
– 2 rulers
– Plus nearly 10 other tools!
P.S. It's great for opening delivery boxes (like Valentine's Day chocolates) and right now there's even a deal to get it shipped to your house for free!
2. Vinglacé: This glass lined whiskey glass keeps his favorite whiskey at the perfect temperature (without the metallic taste or smell)
You already know his favorite whiskey…
This Valentine's Day, give him a better way to drink it.
The Glass Lined Whiskey Glass by Vinglacé enhances whiskey's flavor without the metallic taste and smell of traditional stainless steel cups.
His whiskey will be kept at just the right temperature, so he can sip it at his own pace.
Whether he takes his whiskey neat or on the rocks, this elegant glass elevates his whiskey drinking experience no matter which whiskey brand he enjoys best.
The deal: Browse multiple styles including golf, tennis, and hunting designs. The popular 4-pack saves $30 and lets him AND his friends enjoy a round together. UPDATE: Customization, regularly $10, is FREE today with code "grommet"!
There's a reason Kailo has been a Grommet best-seller for YEARS…
Chronic pain isn't just "annoying," it can quite literally ruin your life.
Whether it's knee pain, back pain, or neck pain, dealing with constant aches is no way to live.

You and your loved ones shouldn't have to just "suck it up."
(Especially on Valentine's Day!)
Kailo is a patented, drug-free patch that goes directly on your body anywhere you're feeling pain.
It contains zero medication and has absolutely no side effects.
Kailo enhances your body's natural pain processes to MAXIMIZE pain relief and help you make it through your day.
Plus, it's been proven to work in clinical trials.
The deal: Why wait to access the pain relief your body is craving? Take $20 off a single patch when you order now. Or take advantage off Kailo's most popular offer: The buy 2, get 1 FREE bundle saves you nearly $160 and includes 3 ultra-soft carrying cases for $0 extra.

Buy from Kailo
"Don't do that!" -my eye doctor
That's what they say whenever I admit that I clean my glasses with my shirt.
(Who else is guilty?)
But it's not our fault, sometimes that's the only way to get clean lenses.
Unless you have Peeps.
Peeps is an optometrist-recommended glasses cleaning device that will NEVER scratch or damage your lenses.
Its compact design and built-in carrying case let you keep Peeps handy whenever your glasses could use a cleaning.
Get spotless lenses WITHOUT the smears that cleaning sprays leave behind, and see why Peeps is a Grommet all-time favorite!
The deal: Grommet readers tell us they keep Peeps all over the house — in their nightstand, the kitchen, even in their car to be sure they'll be able to clean their glasses no matter where they are. Today's Valentine's Day special makes that easy since they're offering a buy 3, get 2 FREE special. (No coupon code required.)
The Migraine Stopper works fast to quickly and NATURALLY relieve migraine pain.

Simply place the Migraine Stopper in your ear like an earbud and gently squeeze the pump.
This gentle puff of air "tricks" your brain into turning off migraine symptoms by relaxing a pair of overactive cranial nerves known to cause migraines.
The Migraine Stopper can even prevent migraines from STARTING in certain circumstances.
The deal: The Migraine Stopper retails for around $180. UPDATE: Dr. Meredith has agreed to a special reduced rate for Grommet readers this Valentine's Day! You can order today at a drastically reduced rate — just $49.99. (That's $100+ in savings!)
Plus, if for any reason you're not 100% satisfied with the Migraine Stopper, you can easily return it hassle-free for 90 days!
6. FIXD – This tiny device alerts you of 7,000+ potential issues with your car (and saves $1,000s at the mechanic)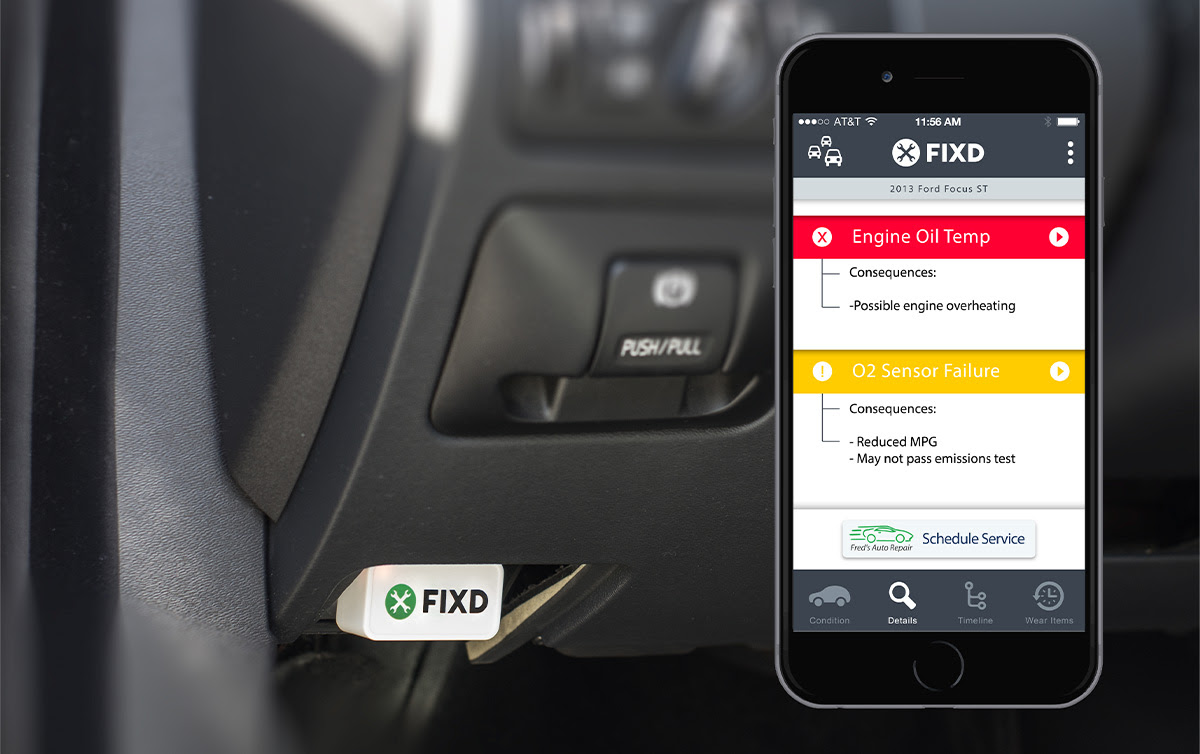 Going to the car mechanic can be scary…
Especially if you've never been a "car person."
But it doesn't have to be!
FIXD is a brilliant device that plugs into any gas-powered car or truck built after 1996.

It uses the same scanning technology mechanics use to tell you exactly what's wrong with your vehicle AND how much it should cost to repair.
(It even tells you if a repair can wait and it's safe to keep driving.)
With FIXD, you'll arrive at the mechanic with a full picture of what your expected repairs should cost and will know instantly if you're being ripped off.
See for yourself what major car headaches this tiny device can help YOU avoid.

The deal: Most Grommet readers add FIXD to all of their cars. Luckily, their buy 2, get 1 FREE Valentine's Day offer makes that easy and saves the most $$$! Plus, there's a money-back guarantee if you're not fully satisfied!
Doctors LOVE telling us to arrive 15 minutes early only to make us sit in the waiting room for half an hour.
What if you could skip the wait and treat your neck pain AT HOME?
Neck Hammock is the #1 way to treat neck pain in under 10 minutes a day.

Simply strap it to any railing or door frame in your home.
It may look a little goofy, but hundreds of thousands of people swear by the results.
Its cushioned "U" shape gently cradles your head and stretches out stiff muscles.
The result?
Glorious relief that leaves you feeling 100% relaxed and ready to take on your day!
The deal: Neck Hammock retails for $80. UPDATE: Get 37% off this Valentine's Day and order Neck Hammock for just $49.99! Want FREE shipping? Order more than 1 and save even more!
8. Minimalist City Maps: Elevate his man cave or office this Valentine's Day with a hand-printed map of his favorite city (choose from 50+ cities)
Native Maps creates beautiful, hand-printed maps that are perfect for any space.
Select from 50+ popular cities and choose the location that means the most to the man in your life.
(Like his hometown or where you first met!)
These maps are an ideal Valentine's Day gift for him and feature all neighborhoods within the city's boundary.
They look great in any office, man cave, or living room.
They're screen printed by hand with a texture that adds depth and interest to any room.
Give the gift of eye-catching art and elevate his space with a stunning, minimal map from Native Maps!
The deal: Grommet fans get 10% off using code "Grommet10" at checkout! Plus free shipping on orders over $100!
I know what you're thinking.
Your man already plays too much golf.
Why would you get him a Valentine's Day gift that feeds his addiction MORE?
Good thing Chippo doesn't require 5 hours on a golf course…
It's a new fast-paced golf game that brings his favorite game to the beach, backyard, or tailgate.

With Chippo, you won't lose him for hours every weekend since he'll be playing this in the backyard instead!
It's tons of fun, easy to learn, and incredibly addicting.
From PGA Tour hopefuls to someone who can barely swing a club, Chippo offers tons of fun for just about anyone!
The deal: Use code "GROMMET" for 15% off your entire order + FREE shipping!
Does your special someone LOVE maps and U.S. history?
Give them the gift that will last a lifetime (literally) with the USA Geological 1932 Shaded Relief Map by Muir Way.
This highly detailed map is printed with premium inks on museum-quality 100% cotton paper that's rated to last 100+ years.

It was created by using elevation data supplied by NASA, and while its intricate details may look 3D, the map is completely flat for easy framing.
This Valentine's Day, gift him a historical statement piece that will look fantastic in his favorite spot in the house!
The deal: Grommet readers have access to a special Valentine's Day discount. Use code "GROMMET10" for 10% off + FREE shipping!