Last updated: September 11, 2023

Looking for the perfect birthday wishes for your coworker? We get it, office birthdays can sneak up on you! No worries, we've got your back. Whether you're scratching your head about what to jot down in the communal card or you want to pen something extra special for a colleague you're close to, you're in the right place. You could kick off your message with a thank-you note, a fun memory, or even a sweet compliment — whatever feels right!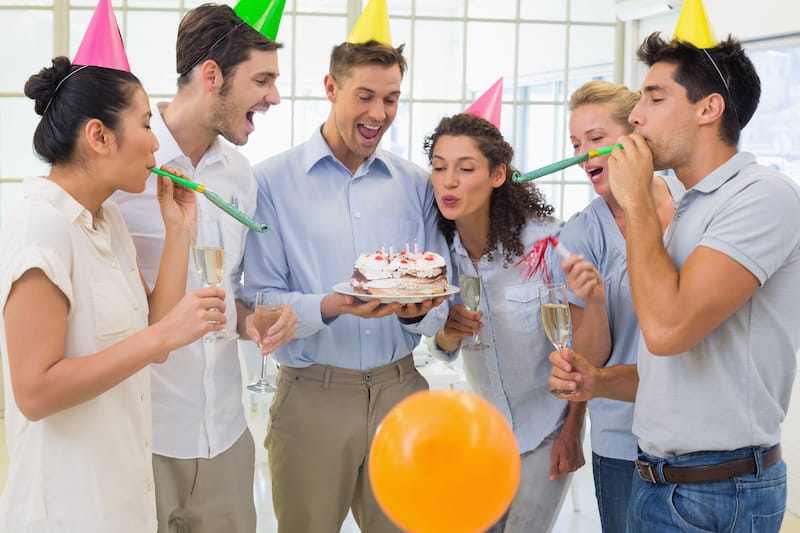 Anyone who's spending their birthday in the office deserves a celebration full of warmth and good memories. These signs of appreciation remind colleagues that you admire and value them, which in turn helps them to remain motivated and engaged. Whatever else you may have planned, a card full of birthday wishes will provide them with a kind memento.
If you're on the hunt for the perfect words, you're in the right place. Here you'll find birthday wishes for your coworkers that range from playful to touching. We even have professional birthday messages in case your workplace culture calls for something a little more formal.
Use the links below to jump to a particular section, or scroll down the page to see the entire collection of birthday wishes for coworkers.
Playful and Funny Birthday Wishes for Coworkers

These quick and friendly, business-casual messages make for great happy birthday cards for your favorite colleague or best friend coworker.
Here's to the brightest, best, smartest, kindest, and most charming coworker ever. Happy Birthday!
Wishing you a special birthday full of all your favorite people and favorite foods.
It's your birthday? Woohoo! I appreciate any opportunity to celebrate, so thanks for the excuse. Let's start the music, and who's ready for cake?
They say a good coworker can make all the difference between a perfect workday and the worst workday of your entire life. Lucky for me, your sense of humor makes every day better. Happy Birthday! I hope you've set aside some time to relax.
Happy Birthday to my favorite coworker who always has my back with bringing the best snacks. Cheers to you, and I hope you get your fill of drinks and cake today!
Happy Birthday! Hopefully it's not all work and no play. You deserve to let loose and enjoy your special day!
Happy Birthday to my partner in gossip. So glad you're stuck here with me all the time. Work would be so dull without you. Have an amazing day!
Every day (and today especially), I'm beyond grateful that we work together. Without you, who would I laugh with? Cheers to the incredible person who's just my right kind of crazy. This is why we work so well together. Have an incredible birthday!
Happy Birthday to the person who exemplifies working hard and playing hard. Your wonderful ability to balance serious and fun means I never have to face an unmotivated Monday morning, and I'm always looking forward to the freedom of Friday. Cheers!
The best place about working here is getting to work beside people like you. Cheers to you being born! Let's get together to celebrate it later!
Thanks for always being someone I can vent to, as well as a helpful friend when it comes to cleaning up workplace messes. I know I can always count on you. You should treat yourself today and enjoy some time off when you can. Happy Birthday!
I know we've never met in person, but I feel like I know you so well. I'm so grateful to have a remote coworker who I can have such amazing synergy with. Happy Birthday, and have a drink for me!
Thoughtful and Touching Birthday Wishes for Colleagues

These card messages convey gratitude for everything your workplace colleagues, employees, and clients accomplish. Expressing pride and affirmation, and congratulating them on their daily accomplishments is a great way to make them feel valued and motivated.
Happy birthday! I want you to know that you're an incredible role model to us all. Have a wonderful day.
Today, on your birthday, I hope you enjoy all the blessings life has to offer. May this year bring you good health and prosperity!
Sending warmest wishes to an invaluable member of our team and one of the most impressive people I've met. Here's to a successful year, full of joy and fulfillment.
Here's to a great colleague and an even greater friend! I'm so fortunate to get to work with you, and I'm even more fortunate to have you in my life. I can't wait to celebrate this great day with you!
It's your birthday and I'm so impressed that you're spending it at work with us. You deserve to have a day as wonderful and smooth-sailing as you make every day for us here in the workplace. Thanks for all that you do and happy birthday!
Happy birthday to the best coworker ever! Every day working beside you is an inspiration, and I'm so amazed at how you manage to make this place so comfortable and inviting. I hope your birthday is full of warmth and joy!
Wishing you an amazing day to celebrate just how special you are. We all value the kindness, warmth, talent, skill, and competence that you bring to this place.
My whole life, I've always wished to have a mentor who is as knowledgeable, patient, and overall brilliant as you are. Happy birthday!
Another year older and also another year wiser. I appreciate all the experience and advice you offer around the office, and I couldn't do it without you. Happy Birthday, dear friend!
I wish we could see you today, but I'm glad that we can celebrate your birthday remotely. Here's a virtual card from all of us, and our warmest wishes that you have an incredible day full of laughter and joy!
Happy birthday! It's been so powerful seeing you grow, overcome challenges, and accomplish so many things since I first met you. Here's to another successful year!
I know you're getting older every year (aren't we all?), but you seem just as young, bright, and energetic as when I first met you. I hope you have a wonderful birthday and that you know how treasured you are!
Professional and Career-Oriented Birthday Messages for Coworkers

Sometimes it's best to stay on the professional side when communicating with a boss, employee, or client. These more formal happy birthday messages for coworkers show appreciation while maintaining a high standard of professionalism.
From all of us at [name of workplace], wishing you an incredible birthday and a brilliant year to come.
Your presence always energizes our workplace with your passion and talent. I look forward to seeing your hard work come to fruition this year. Happy Birthday!
You've had so many incredible accomplishments this year. I'm always astounded by everything you do. Here's to starting off the best year so far! Happy Birthday!
Thank you for your hard work and dedication. May today give you many reasons to celebrate.
Wishing you space and relaxation as you take some time off on your birthday. You deserve it!
Sending bright birthday wishes from the entire team here at [name of workplace]. Have the happiest of birthdays!
I heard it's your birthday! Wishing you a year of success and prosperity.
It's always a pleasure to work with you. I hope you have a wonderful birthday celebration!
Wishing an amazing birthday and prosperous year to one of the most skilled people I know. Your passion has taught me so much about working, and I'm so proud to be able to learn and grow alongside you.
You are a true asset to this team. I hope that all your aspirations come true this year. Now go celebrate and enjoy your time off!
Happy birthday! May each day take you another step closer to achieving your dreams.
Happy birthday to the person who has been key to the success of this entire organization. Today is all about you, so I hope you enjoy the fruits of your labor and have an incredible day.
More Birthday Wishes for Coworkers

Are you still searching for the ideal message for your coworker's birthday? Perhaps you need a wish that's specifically tailored to their role or something with a touch of humor? Explore our collection to find the perfect birthday wishes for your coworker in our other related articles.
Funny Birthday Wishes
Belated Birthday Wishes
Assorted Birthday Wishes
Religious Birthday Wishes
30th Birthday Wishes
40th Birthday Wishes
50th Birthday Wishes
60th Birthday Wishes
Other Seasonal Wishes for Coworkers

If you've enjoyed our birthday wishes for coworkers, you're going to love what we have for the holidays. Explore our array of seasonal messages crafted specifically for the workplace. Whether it's Thanksgiving, Christmas, or any other holiday, we've got the right words to spread cheer among your coworkers and team.
Thanksgiving Message to Team
Christmas Messages to Employees
Holiday Messages to Employees
Free Printable Birthday Cards

Need something more than just birthday wishes for your coworker? Our printable birthday cards are a quick and meaningful way to enhance any office birthday celebration.