Last updated: June 16, 2023

Sending Happy Birthday wishes to your boyfriend celebrates his special day while saying a lot about your relationship. Whether he's your support, your sweetheart and inspiration, your best friend, or your own personal comedian, the right message can make him feel like the most cherished person in the world.
Though you might tell him you love him every day, it can be difficult to find the right words when the pressure's on. Telling your loved ones that you care about them is an important aspect of healthy relationships. And even for those who don't often express themselves with words of affirmation, your boyfriend's birthday offers a wonderful opportunity to make him feel extra special and appreciated.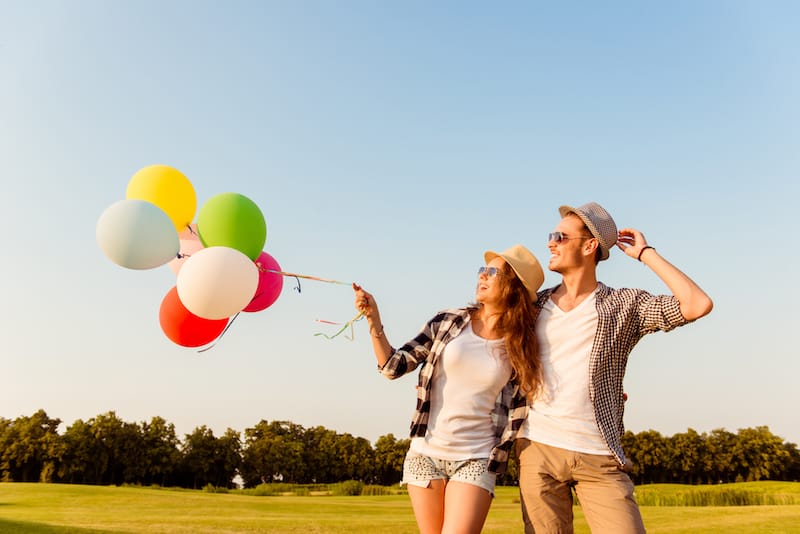 Whether you're celebrating with a party or a more intimate date night, these messages will let him know how much he means to you. Below, you'll find romantic, flirty, and funny messages to send to your boyfriend. Birthday paragraphs and longer messages are suitable for writing in a card or posting to social media, while a sweet message to a long-distance boyfriend will remind him that you're thinking of him on his special day.
Short & Sweet |
Romantic |
Funny |
Long Distance |
Birthday Paragraphs
Use the links above to jump to a particular section, or scroll down the page to see the entire collection of birthday wishes for boyfriends.
How can I make my boyfriend feel special on his birthday?

The best way to make your boyfriend feel special on his birthday is to cater to what he likes, including his favorite hobbies and interests.
Birthdays can be double-edged. They remind us of aging, while also offering us the opportunity to take stock of our year and accomplishments. So taking a moment to highlight his achievements and celebrate the good memories from the past year can make your boyfriend feel loved. You can follow this up by mentioning all the things he has to look forward to in the coming year.
Some people enjoy having control over their own birthday celebrations, while others prefer when their significant other handles the planning and details. Surprise parties, special dates, adventures, and other outings, such as a picnic, hiking trip, or visit to the city are all ways to make the day special. A thoughtful and personalized gift can commemorate the moment while giving him something that will make him think of you any time he sees it.
Don't forget that boyfriends can use some pampering too. Sometimes, the best gifts aren't wild parties and adventures but an opportunity to relax. A massage could be what he needs to recharge. Pair it with his favorite meal or drinks, and help him indulge in a way that shows you've been paying attention and that you care.
Short and Sweet Happy Birthday Wishes for a Boyfriend

A quick message to your boyfriend on his birthday will let him know that you're thinking about him while you're apart. You can also mention that you're looking forward to seeing and celebrating with him.
Sending birthday wishes to my other half!
Happy Birthday sweetheart, I hope this day is every bit as fun and adventurous as you are!
Happy Birthday to my favorite person! Let's go have an adventure.
Happy Birthday to the guy who makes my heart stop every time his message notification pings on my phone! <3
Happy Birthday to my partner-in-crime. You're the only person I'd trust to break me out of jail. I can't wait for whatever trouble we'll get up to this year! P.S. Burn this card!
First, you steal my heart. Now, you're saying you refuse to give it back? I guess, since it's your birthday, you can keep it forever. Happy Birthday, my love!
Happy Birthday to my boyfriend, and even more, my best friend too!
You're so much fun, being around you makes me feel like a kid again. Time with you always brings out the best in me. Happy Birthday, darling.
Happy Birthday to my best friend and love. You're the only one who can make me cry, blush, and spit my drink with laughter all at once. I cherish it all. Love you!
I count myself so lucky to share this day with you. Happy Birthday!
Just one kiss from you and I knew I was a lost cause. Happy Birthday, lover.
You inspire me every day. Here's a present to bring you a little joy and make you think of all our good times!
A toast to the guy of my dreams: Seeing you happy today is the best thing I can imagine! So enjoy your special day, and let's remember it forever.
Today, we'll put all your usual hard work and ambitions on snooze. Let's just have some fun. Happy Birthday, you deserve it!
Happy Birthday! It's been such a good time hanging out with you and getting to know you these past [weeks / months]. I hope you have an incredible day!
Happy Birthday to my sweet, cute, witty, handsome, and always charming boyfriend!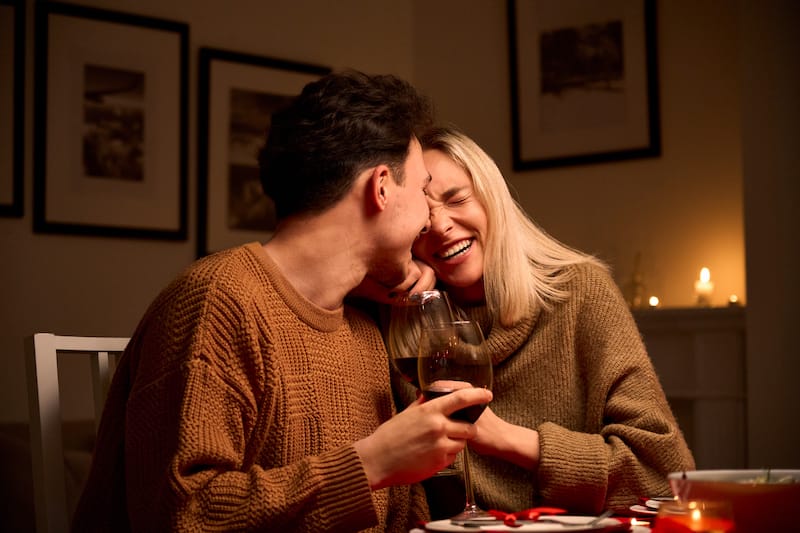 Romantic and Loving Happy Birthday Messages for Your Boyfriend

Romantic messages give you a chance to tell him how you feel about him, and the depth of your care and affection. This is particularly important for nurturing an established relationship. When your relationship has lasted beyond the "new and exciting" early days, a loving birthday message for your boyfriend will help him feel valued.
Happy Birthday, my love! Being with you makes me feel like the luckiest person on the earth, and there's not a day that goes by that I don't treasure your smile.
You're my rock and my anchor. Without you I would just be drifting in life, but together we are really going places. Happy Birthday to my forever love.
Simply talking to you sets my heart on fire. I love that we never run out of things to say even when we talk all through the night. I hope your birthday is full of dreams coming true.
Any day with you is already so special to me. I can't wait to make more memories with you. Love you and Happy Birthday!
Happy Birthday to the man who taught that true love really does exist. Here's to an incredible year full of adventures and possibilities.
You're always there for me, listening to my problems – the big and the little. What would I do without your insights and the comfort you give me? Today's your day, and you're all I can think about. Happy Birthday! Let's make it a great one.
Happy Birthday to my Prince Charming. Ever since you swooped into my life, everything has been better and more beautiful. I love you and can't wait to return the favor today!
Happy Birthday! I find myself falling more and more in love with you each and every day. And today I'm falling at double speed. I adore you, babe.
On this day, I want you to know that everything you do and everything you are makes this world a better place to live in. May you have a wonderful day, full of joy and loved ones.
You're always so generous and loving. I hope that your birthday favors you with incredible gifts and wonderful memories that you can treasure forever.
Ever since you stole my heart you've made me feel like the luckiest person in the entire universe. I hope your day is every bit as special as you make me feel all the time. Love you, babe.
To my boyfriend, my best friend, my soul mate, and my favorite person. No matter what comes at us, I know we can weather it together. On your birthday today, I hope everything you've wished for comes true.
Funny Happy Birthday Wishes for Boyfriend

Maybe his sense of humor is always making you laugh and smile. Here's your chance to return the favor. Write your boyfriend a birthday message in his card or through text that he can laugh along with, while you congratulate him on another year around the sun.
Happy Birthday to the sexiest, handsomest, most good-looking man in the world. Oh hey, if you happen to run into [write in your celebrity crush], can you give him this card? Thanks, babe!
Funny, cute, sexy, fun to be around… Wouldn't you agree that these are all my best qualities? Which is exactly why you don't need another gift this year when you have me. Love you, hon!
Happy Birthday to the one person in the entire world who knows how to get on my nerves and annoy me the most. I love you, let's make it a good one!
Happy Birthday! No words are enough to express the depth of my love for you. Hence why the rest of this card is blank.
Happy Birthday to the best boyfriend in the world. You're the reason I wake every morning with a big grin on my face…. And drool on my pillow.
Happy Birthday to the only person who puts up with all my nonsense. We're so lucky that your crazy is the perfect match for my crazy.
Happy Birthday to the most talented, incredible, annoying, and corny person I know. Hey, you said to always be honest with you, right? Love you all the time and every day.
Another year older, huh? It's a good thing for you that I'm into older men.
So it's another year of turning 25, then? We'll just ignore that receding hairline. Happy Birthday, handsome! Here's to delicious cake and a raucous hangover tomorrow.
Long Distance Happy Birthday Wishes for a Boyfriend Who's Far Away

Birthday messages are especially important when you can't be with your boyfriend on his birthday, because of a long-distance relationship or other circumstance that requires celebrating from far away. Whether you're playing it cool or openly telling him just how much you miss him, these messages can help your love cross the distance.
Happy Birthday to the most thoughtful, charming, and hottest guy I know. I only wish I could be there to celebrate with you. I hope you take time to do something for yourself today.
Happy Birthday, babe. I'll be zoning out all day just thinking about kissing you. I miss you so much, and I'm packing this little gift full of hugs and cuddles just for you. Love you!
Near or far, you've always been my rock and I'll always be yours. Happy Birthday! I'm sending you all of my love and support, and I miss you more than ever today!
I'm missing the yang to my yin. You help keep me balanced and I only hope that we can be in the same place more. Soon, we'll be able to enjoy that again. Until then, know that I love you, and I'm over here wishing you the best, most splendid birthday.
We have an unbreakable bond that not even distance can touch. Happy Birthday, my love. It's a treasure just knowing you.
Since they're so rare, I'm grateful for every moment that we get to spend together. I'm sorry that you have to spend your birthday without me, but I hope you can make the best of it. Have some cake for me too!
With this message, I'm sending you a whole ocean's worth of love and warm memories. I hope your birthday is fun and full of great moments where you are. Have an incredible day, and know that I'm thinking of you.
No distance is far enough to keep my love from getting to you. Take these hugs and kisses and have an incredible birthday. I'll make up for missing you when I see you. Happy Birthday, my love!
Happy Birthday! Even though I can't be with you right now, I hope you can feel my presence and care. Have fun!
The only consolation for not being able to be with you to celebrate your birthday is knowing that you'll still have a great time anyway. Happy Birthday! Have a drink for me and enjoy yourself.
It's so cool that we can make this long-distance relationship work, even though it means missing important days like your birthday. I promise we'll make up for it a thousand-fold when we see each other again. Happy Birthday!
Wish I could be there on your special day. It's breaking my heart that I won't be able to celebrate with you. I'm packing this gift full of all the hugs, love, cuddles, and kisses that we're missing out on until I see you next! Happy Birthday from your adoring girlfriend.
Flirty Birthday Messages for Your Boyfriend

Some people like to feel desired on their birthday. These flirty messages are ideal for a private text message. They talk about how handsome you find your boyfriend, and they may even help you set up a hot date for later.
All this time together, and you're still as sexy and charming as the day I met you. Happy Birthday, handsome, can't wait to see you later.
I hope you get everything you could possibly wish for today, including all of me. Happy Birthday, babe.
Some people like cake on their birthday, and some people like something spicier. I know I do. Happy Birthday, sexy, I'm counting down the minutes until I can give you your present.
I can't stop thinking about you and all the ways we're going to celebrate your birthday.
Happy Birthday to the one person I like to share all my secrets with and maybe even make some more tonight.
Happy Birthday, babe. I can't wait to shower you with love and affection for your birthday. This message is just the beginning.
Happy Birthday to a man who's the ideal combination of hot and hilarious! Thanks for always making me laugh and being around to keep me warm at night.
Happy Birthday to my handsome lover! I don't know what black magic you use to stay looking this good, but I'm not complaining.
I'm starting to understand what they mean when they say that men look better with age. I can't keep my hands off you. How about you meet me after this party and I'll show you how much I appreciate that.
Happy Birthday! I hope today you get whatever you desire. Doubly so if it's me.
Today, I'm all yours. So let's go somewhere fun, and I'll make all your wishes come true.
Love Letters and Birthday Paragraphs for a Boyfriend

Sometimes there's more to say in a Happy Birthday for boyfriend card than a simple greeting. These love letters and birthday paragraphs pack a ton of sentiment into a few words. They work best when you personalize them for yourself, so feel free to add in favorite memories with your boyfriend, relationship accomplishments, or his hobbies and interests.
To my own personal comedian and the love of my life. You keep things lighthearted and always make me laugh, even when things are rough. You're aging like a fine whiskey, and every year makes you better and better. So happy birthday, handsome! I'm looking forward to a bright and fun day together celebrating you and everything that you do!
Happy Birthday to the guy who makes every day better just by being there. You're my favorite person to do anything with, whether we're traveling, cooking, or dancing, or playing games together. It's always better when you're around. Thanks for being you. Love you for eternity!
Happy Birthday to the man of my dreams. I feel proud to call you mine, and talk about you so much my friends must be sick of it. But I can't help it! It's not my fault that you give the best hugs and know just how to make me smile. I'm so glad to have found you, and tonight I want you to feel like the luckiest guy in the world. Let's celebrate so that we'll remember it for years to come.
Every day, and today especially, I think about how my life is better with you in it. You make everything we do so much fun. Just know, I'm always here for you when you need me, whether it's to be a partner in crime to eat all this cake or a loving shoulder to rest your head on. Happy Birthday! Let's enjoy this day together and the incredible year that's ahead of us.
If it wouldn't get me in trouble I'd scream "Happy Birthday" at you at the top of my lungs. Instead, you'll have to settle for this card. When you're around I never feel lonely, and I always have moments that I want to remember forever. Let's do something fun today. It's the least that you deserve. For your birthday, have my whole heart, and then some!
More Birthday Wishes for Boyfriend
Still looking for just the right message? Maybe you want a message for a particular birthday year, or an extra funny message? Find the perfect birthday wish for your boyfriend on one of these pages:
30th B'day
40th B'day
50th B'day
60th B'day
Birthday Wishes
Funny
Images Quotes
Belated
Bible Verse
Birthday Prayer
Religious Birthday Wishes
Looking for a birthday gift for your boyfriend? You might be interested in:
Free Printable Birthday Cards

Free printable birthday cards in high-quality PDF format that you can print and fold at home. There are also some color-in printable cards, perfect for kids who want to create a unique birthday card for family and friends.