Hey Sagittarius! It's your season to shine! Born during one of the most exciting and positive times of the year – November 23 and December 21 – Sag is a fire sign, so it's no wonder you love birthday gifts that spark your sense of adventure and encourage spontaneity.
🏹 Elf-Picked Gifts for Sagittarius
Explore our Sagittarius Gift Guide to find the perfect gift ideas packed with spontaneous Sag energy. Add these gifts to your own birthday Wishlist and have fun learning more about your sign along the way.
Key Trait: Independent
Gift: Sagittarius Zodiac Necklace
Sagittarians are both physically strong, mentally optimistic and fiercely independent. Show off your inner strength with this necklace that features the iconic symbol of Sagittarius – a bow and arrow.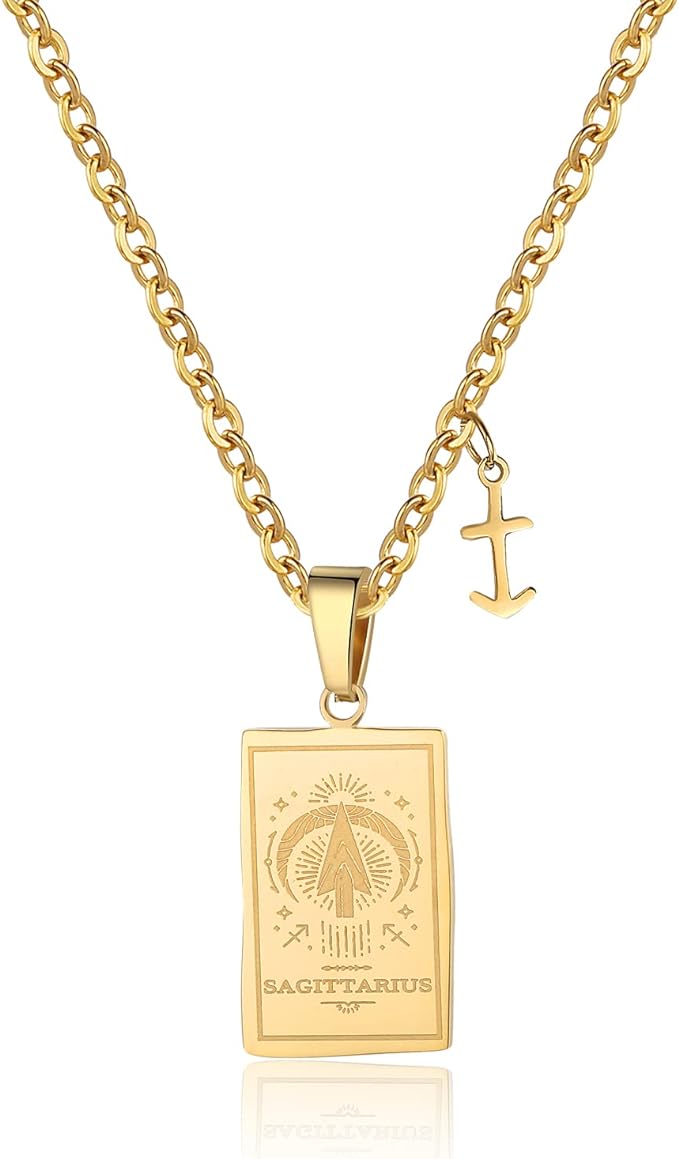 Key Trait: Flexible
Gift: Sagittarius Mini Stone Pack
Known for your flexibility that allows you to easily go with the flow, this crystal set featuring sodalite helps facilitate logical conclusions. This curated crystal collection supports your unique Sag energy.
Key Trait: Optimistic
Gift: Cozy Lavender Warming Booties
Lavender is used in aromatherapy to improve mood, soothe stress and increase feelings of joyfulness. It is calming and relaxing, as it helps to enhance senses of low-anxiety and optimism. These cozy warming booties will be the perfect way to relax during the chilly month of Sagittarius szn.
Key Trait: Honest
Gift: Funny Sagittarius Candle
Always one for keeping it honest, Sagittarians tell it like it is! And as one of the funniest signs in the zodiac, you can laugh at yourself just as easily. This hilarious candle will be your daily reminder.
Key Trait: Adventurous
Gift: 100 Trips Around the World
With your sites set on adventure, this bucket-list-worthy travel guide is a must-have for any Sagittarian on the go. 100 Trips Around the World takes travel beyond the obvious with adventures in exotic places, all based on the expertise of travel journalists at The New York Times.
Key Trait: Bold
Power Color: Purple
Gift: Crystal-Infused Zodiac Nail Polish
This bold and shimmering Metallic Magenta nail polish not only comes in Sagittarius' power color, it's packed with positivity. Infused with micronized Citrine crystals, this polish brings prosperity, joy and energy.
Key Trait: Travel Lover
Gift: Béis Weekender Bag
Your open-minded nature contributes to your love of travel and adventure – your suitcase is never far out of reach! This carry-on-ready bag takes the hassle out of packing for the weekend or whenever adventure calls.
Key Trait: Love to Entertain
Gift: Who in the Room? Party Game
Sagittarians love a good party! As one of the signs that is always eager to entertain, this party game that gets the crowd laughing is a perfect pick for your next gathering with friends.
Key Trait: Intelligent
Gift: Sagittarius: A Guided Journal
Witty, sarcastic and quick on your feet, Sagittarius is undoubtedly one of the most intelligent signs of the zodiac universe. Perfect for the budding astrologer, this guide is what you need to really understand your sun sign… and yourself!
✨ Looking for Zodiac Gifts?
Calling all Astrology Lovers! Check out our Zodiac gifts for every sign to give as a gift or add to your Wishlist!
Connect with Elfster for gifts, giveaways, and great news on Facebook and Instagram.
Elfster may receive a small commission for any clicks or purchases made on an affiliate website using links on our site.