A Prayer to Find Our Satisfaction in the God Who Satisfies Forever
By Alisha Headley
"Then Jesus said to them, "Most assuredly, I say to you, Moses did not give you bread from heaven, but My Father gives you the true bread from heaven. For the bread of God is He who comes down from heaven and gives life to the world." (John 6:32-33)
While we need food daily to nourish our bodies, there is another kind of nourishment that feeds our souls and that's Jesus Himself. Most of us turn to food or other forms of nourishment and satisfaction to fill us not just out of necessity for our bodies to survive, but out of a place to comfort us, to give us peace, and to temporarily bring us pleasure.
We don't just do this with food, we create other forms of pleasure to satisfy our hunger. We turn to tv shows to numb us out, to friends, to staying busy, to working out, to our careers, or anything we depend on or lean on to satisfy the hunger and thirst we have for a longing of fulfillment. But like most things, food, or people, we are only satisfied temporarily, and then we find ourselves once again still hungry and thirsty for more.
Today's verse reminds us that the true everlasting fully satisfying, that will never leave us hungry is from Heaven and that is Jesus. Today's passage is referring to how God supplied manna to feed the Israelites as they fled the Egyptian slavery and as they traveled, with Moses as their leader, for 40 years throughout the wilderness. While bread to eat was nourishment and life to their bodies, the true bread of Heaven is Jesus who gives life to their soul and the world. What a beautiful reminder! That longing that we all have to be fulfilled, can be fulfilled by simply calling on the name of Jesus. He is our one True Bread that will give us everlasting life with Him one day in Heaven. We can turn to Him today for that hunger for fulfillment we feel inside of us. We can turn to Him to satisfy us and quench our hungering needs. Let's pray today and ask Him to satisfy us in ways that no food, person or thing ever can.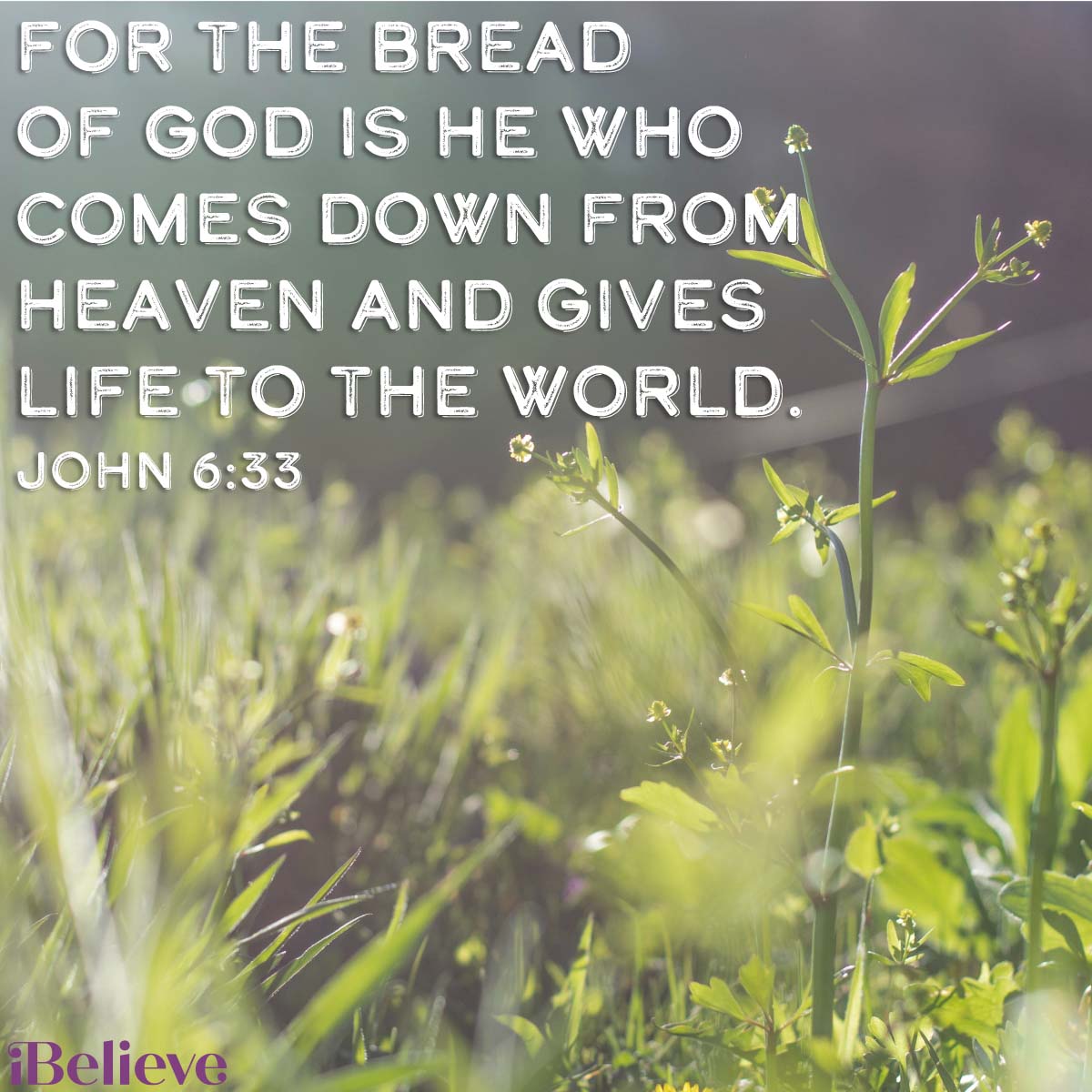 Let's pray:
Dear God,
Thank you so much for the Bible and all the stories from the past that are still relevant to us today. Thank you that you are a God who provides and won't leave us hungry and thirsty. Thank you, Lord, that you sent your Son down from Heaven to die for our sins so that we could have everlasting life with you we are told in John 3:16. Please remind us today that all the things of this world that we are chasing after will never ever truly satisfy us. We thank you for blessing us with things and people in this life that bring joy, but we are reminded today that they don't bring us lasting fulfillment.
We ask that you would reveal to us any anything in this world that we have made an idol that we are striving to fulfill us instead of you. Please re-direct our focus back on you reminding us to "seek you first the Kingdom of God and all your righteousness, and then everything else will be added to us." (Matthew 6:33) Help us remember, that while the things of this world are good to enjoy and love, it is you we are to love first and foremost, and it is you that will bring us lasting fulfillment and a nourishment to our lives that nothing else can. Forgive us for looking elsewhere, rather than looking towards you. We love you Lord and thank you for being our one true Comfort and in you, we "lack nothing. (Psalm 23:1)
In Jesus' name,
Amen
Photo credit: ©SalemDesign/BethanyPyle Stock footage Soundstripe.com 
Alisha Headley is a writer + speaker who has a desire to meet the everyday woman in her everyday life with biblical truth. Stepping into her true calling, she left the corporate world behind as a former-financial VP to love on her family as a stay-at-home wifey + dog mama, while also being able to pursue her passion as a writer. Healing from a chapter of life consumed with lies she once believed about herself, she is inspired to point women to Christ to experience the freedom + power to overcome those lies with the truth written in God's word. In her free time, Alisha enjoys road trips around the country, working out so she can eat her favorite foods, and creatively styling her outfits with a craft for fashion. Alisha is a proud wifey and dog mama living in Scottsdale, Arizona.
You can follow her blog by visiting her website or connect with her on facebook + instagram.
Teach Us to Pray is a FREE prayer podcast hosted by iBelieve writer Christina Patterson. Each week, she gives you practical, real-life tips on how to grow your faith and relationship with God through the power of prayer. To listen to her episode on What to Pray in the Morning for a Worry-Free Day, click below!

Now that you've prayed, are you in need of someone to pray for YOU? Click the button below!
Visit iBelieve.com for more inspiring prayer content.