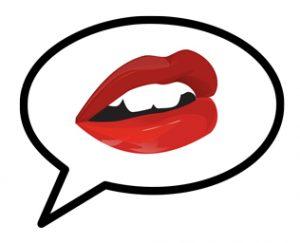 Few things sting as sharply as ghosting—someone abruptly dropping you after shared intimacy and going radio silent. To have measured you and found you lacking in some way then return you to the shelf. Becoming intimate with someone requires becoming vulnerable. It can wound us to the core when we feel like that vulnerability has been betrayed. Ghosting is particularly painful because we are left without answers.
What is even worse than ghosting? REPEATED ghosting. Today's column comes courtesy of a reader who finds themselves stuck in a pattern of repeated ghosting and unable to break free. What do you do when someone subjects you to multiple cycles of ghosting? How do you stop the cycle?
---
"After years of fantasizing, I finally found the courage to join the lifestyle…and was swept off my feet by the literal Dominant of my dreams at my very first play party. It was like he had always known me. He collared me right away and I have never been so happy. Things were amazing–until he disappeared. No text, no email, no calls. After weeks of worry, he popped back up as if nothing had happened. I was so afraid of driving him off that I didn't talk to him about it. Things went back to wonderful, until he vanished again. Help! I can't sleep, I can't stop thinking about him, I just want him back. How do I stop him from ghosting me?"–Dom Of Dreams Ghosting Endlessly
There are actually a number of things happening to you all at once DODGE, and they can feel quite overwhelming when stacked up. Setting aside the issue of ghosting completely, you have found yourself in a not entirely unheard-of situation—the quick collar Instadom. The fact that you found the Dom of your dreams at your very first play party and then found yourself collared right away? That is just an ocean of red flags waving wildly.
Unfortunately, This Is All Too Common
I wish I could say I have never heard of such a thing before, but that would be a lie. Unfortunately, there are some people in the lifestyle that specialize in collaring newbies.
For the newbie, it can feel like a dream come true: an experienced person that seems to know their innermost desires and gifts them with a sense of belonging and purpose. The collar they have long fantasized about fits snugly around their neck. It doesn't get any better than this! Awash in endorphins and dopamine, it's not surprising that we don't question the source of those incredible feelings. It's only when things start to go badly wrong that we are forced to re-examine what is happening.
Don't Get Collared Right Away
I can't stress this hard enough: DON'T GET COLLARED RIGHT AWAY! Just don't do it. Heck, don't rush right into a D/s dynamic with the very first person you play with. You are literally not in your right mind and are not making clear-headed choices.
Those delightful feelings that we get from kinky play? They are caused by feel-good chemicals in your brain. Of course you want to keep the endorphins flowing! When the source of those endorphins is offering you an instant relationship dynamic and a collar, it feels like winning the lottery. We might not stop to ask why someone already in the lifestyle is in such a rush to get into a D/s dynamic with a complete newbie. The answer is usually because people already in the lifestyle are wary around them, so they focus on newbies instead.
Even if we know something is off, it can be very hard to extract ourselves from someone else once we are in an endorphin bonded dynamic with them. In your case, this is compounded by the fact that your Dominant also has a ghosting problem. All you want is for it to be the good times. All you want is for him to stop dropping out of your life and then re-emerging in a cycle that destroys your peace of mind and sleep cycle.
There is only one answer here DODGE, but I know it's not the one you want to hear. Your Instadom has shown you exactly what he is capable of bringing to the table: some entertaining distraction before he wanders off and then comes back again when he can't find something better to do.
He Has No Motivation To Stop The Repeated Ghosting
There is no magic formula I can give you that will stop his repeated ghosting. Your actions have shown him that he can get away with it. Until you break off the cycle, he will have no motivation to stop putting you through mental distress.
An endorphin bonded dynamic with someone can feel like being stuck in a giant pool of molasses—you don't know how to get free and are coated head to toe in emotional adhesive. It's not healthy and it usually doesn't end well. Only you can break yourself free from that pool of molasses and only you will know when you are ready. It can take repeated cycles of emotional ups and downs and dashed hopes.
You are new! There is still so much for you to explore and experience. Don't let your first D/s relationship with a rushed collar take up any more of your bandwidth than it already has. Take some online classes. Read more. Attend more events. Join some discussion groups. Most of all, remind yourself that you deserve more than what you are currently getting. Take off that collar, block his number and find someone that values and respects you. They are out there and they can't wait to meet you!
Keep it Kinky My Friends,
RDG
Want to add your own insight to the conversation? Leave a comment below.
Have a question that you want answered in the Dirty Talk Advice Column? Contact Rain here.
OR