Last updated: May 22, 2023

Looking for some hard word search fun? You've just hit the jackpot. Our collection is packed with puzzles that are sure to test your word-spotting skills and get those brain gears turning.
No matter what you're in the mood for, we've got a theme to match. Miss the beach? Dive into our summer-themed puzzles. Feeling festive? Try out a Christmas snowman word search. From love-filled Valentine's Day puzzles to lucky St. Patrick's Day ones and the joy of spring or Easter – we've got it all.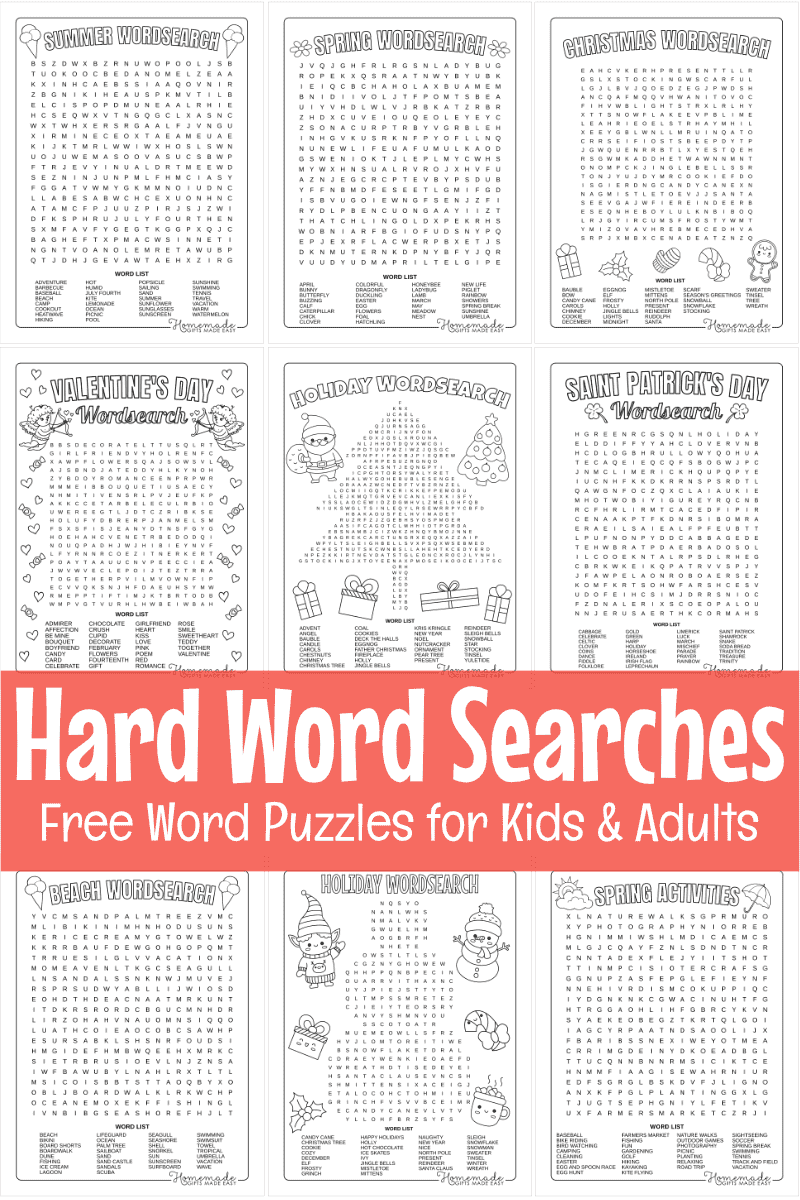 Don't worry if you're new to this or a seasoned pro, there's a unique journey in each hard word search for everyone. And if you ever find yourself stumped, we've got you covered! You'll find all the puzzle solutions at the bottom of the page. So, kick back, relax, and let the word hunt begin!
Most of the puzzles on this page of hard word searches are loaded with 30 words for you to find, ensuring plenty of fun as you put your word-spotting skills to the test.
These printables are for personal, non-commercial use only.
Summer-Themed Hard Word Search
Soak up the sun with this summer-themed word search. From balmy beaches to tasty treats, find all the essential summer words hidden in this sizzling puzzle. It's summer in a grid!
Beach-Themed Word Search
Kick off your flip-flops and get ready for a trip to the beach with this challenging summer beach-themed hard word search. Feel the sand between your toes as you uncover beach-related words hidden amongst the jumble.
Vacation-Themed Hard Word Search
Pack your bags and let's head out on a summer vacation with this word search. Hunt for words related to those wonderful summer getaways, from exotic locations to must-pack items. It's a brain vacation!
Snowman-Shaped Hard Word Search
Fancy building a snowman? Well, this secular, non-religious Christmas word search brings the winter fun indoors. Find festive words that celebrate the joy of the season. It's all the fun, minus the cold!
Christmas-Themed Word Search
Ready for a holiday challenge? This Christmas square hard word search wraps up all the merriment and magic of the festive season in one square grid. Can you find the holiday cheer?
Christmas Star-Shaped Word Search
This star-shaped hard word search focuses on the Christian side of Christmas. Find words that relate to the spiritual essence of this religious holiday. It's a truly heartfelt challenge.
Christmas Tree-Shaped Word Search
Unwrap some Christmas traditions with this tree-shaped word search. Whether it's decking the halls or singing carols, you'll find all the merry customs that make Christmas magical. Go on, let the holiday cheer begin!
Valentine's Day Hard Word Search
Get swept up in the language of love with this Valentine's Day word search. Whether you're a hopeless romantic or just enjoy a good puzzle, this one will definitely steal your heart.
St. Patrick's Day Word Search
Time to don your green hats and dig into this St. Patrick's Day hard word search. Will you find the 'Luck of the Irish' hidden in the words? There's only one way to find out!
Easter Word Search (Non-Religious)
Celebrate the joys of Easter with this egg-citing hard word search. Find words related to the Easter Bunny, egg hunts, and all the lovely traditions that make this holiday so special.
Easter Hard Word Search (Christian)
Celebrate the spiritual side of Easter with this religious Easter word search. Dive into the deeper meanings of this holy holiday, discovering faith-filled words and phrases along the way.
Spring & Easter Word Search
Easter meets spring in this delightful hard word search. Discover the words that bring together the rebirth of spring with the joy of the Easter holiday. It's an egg-citing challenge!
Spring Activities Hard Word Search
Spring into action with this word search focused on spring activities. From gardening to picnics, discover the many ways to enjoy this blossoming season hidden in this challenging puzzle.
Spring Garden Word Search
Let's get those green thumbs working with this spring garden-themed hard word search. Unearth words related to the joys of gardening and the beautiful blooms that grace our gardens each spring. It's a blooming good challenge!
Spring Word Search
Bring the freshness of the season indoors with this general spring-themed hard word search. From April showers to May flowers, find all things spring in this rejuvenating puzzle. It's a breath of fresh air!
Hard Word Search Solutions
Had your fill of head-scratching? Or maybe you just can't wait to check your answers. No worries! Below, you'll find the solutions, where you can confirm your word-finding mastery or give that tricky word a glance. Let's see how you did!
More Word Search Puzzles
Can't get enough of these hard word searches? No worries, we've got you covered! If you're craving more, be sure to check out our other pages chock-full of word searches. You'll find puzzles themed around Christmas, Easter, Spring, St. Patrick's Day, Summer, and Valentine's Day. And the best part? We've got puzzles for all skill levels, ranging from very easy to super challenging.
But that's not all. We've got even more word search fun waiting for you. Maybe you're an animal lover, or perhaps sports get your heart racing. Fancy yourself an art connoisseur, or maybe science is more your thing? From Superheroes to Weather, Hobbies to Harry Potter, Star Wars to Celebrities, and Travel to Music – we've got a word search for that! Check them out on our page of Word Searches on All Topics.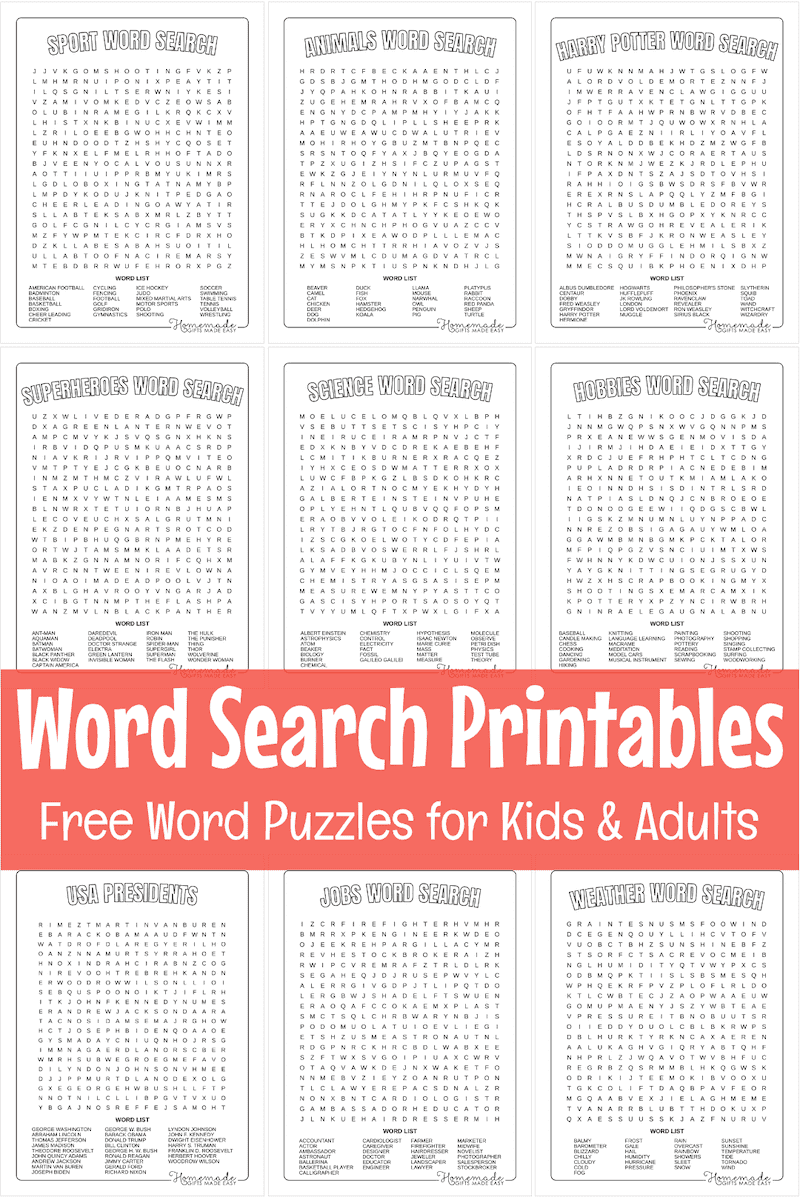 ×
This printable is for personal, non-commercial use only.