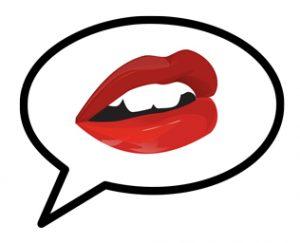 BDSM is often thought of as painful play and humiliation. Bruises and degradation. Is the kink lifestyle all pain and shame? Is there any space in the land of kink for submissives that do not want to engage in masochism? Does this corner of kink for people that are certain they are kinky but have no interest in discomfort and shame exist?  Or are those living on the fluffy side of the paddle not truly welcomed? If you are uninterested in suffering or belittlement are there no Doms for you?
Today's reader writes in wondering if they are out of luck when it comes to exploring the lifestyle—are there any gentle Tops out there? You have questions, the Dirty Talk Advice Column has answers! This is for all those who aren't zealous bruise collecters.
---
"I'm a submissive and I am eager and obedient. Due to some past trauma I really don't like any kind of pain play or degradation. I have found that many Doms are interested in me until I say I don't like pain play or harsh impact play and then they ghost me. Is it harder to find gentle doms as opposed to sadistic ones? Am I looking for something that's too difficult to find? Is it unrealistic to not want pain play?"–No Pain Pls
I Guarantee There Are Doms Out There For You
As it turns out, I have some very good news for you NPP! You know all that anxiety you have around not being a masochist? I get just as many emails from Doms certain that they will never find a submissive because they are not a sadist who likes to disparage their property. As worried as you are that there isn't a space at the kinky table? They are just as worried.
All those fears you have around pain and belittlement not being territories that you desire to explore are just as equally matched by Doms certain that nobody will ever want them partners because they don't want to hurt others.
There Is No Wrong Way To Be Kinky
The truth is that there is no right or wrong way to do kink. There is no book, expert, or advice columnist that is the final authority on how to do the lifestyle. Be extremely wary of anyone who might claim otherwise. There is only what is right for you and your potential partners.
The kinky buffet is much wider-ranging and packed full of potential variety than one may first think. Anything in the world can be kinky as long as it is agreed upon by all parties. It doesn't have to be all impact and hurt. You are not a failure as a sub because you don't want to wade in those waters.
Have You Worked On Resolving Your Past Trauma?
If you have not yet addressed the trauma that makes you adverse to pain play or degradation, a good gift of self-care would be in doing so. You are aware that a trauma response makes you not want to explore those particular aspects of kink, have you gotten a therapist or done any sort of research around trauma? Regardless of whether or not you do any further exploration of the lifestyle, addressing the trauma you have experienced would be a beneficial thing for you.
If after doing work on your past trauma, you still find yourself uninterested in so-called "default issue" kink activities, again I want to set your mind at ease—there are no default kink activities. There is only what works best for you personally.
Take the time to get to know yourself. Learn to identify what works for you and what does not. Become able to say, with great confidence and certainty, what you are interested in exploring. The better you are able to do so, the higher your chances of finding the partner you seek. By being honest and clear about your desires, you will find that the odds of getting them met go up dramatically.
Best of luck NPP. May you find the gentle Dom of your dreams. Keep working on your communication and getting to know yourself better. Both are valuable gifts to give yourself.
Keep it Kinky My Friends,
RDG
Want to add your own insight to the conversation? Leave a comment below.
Have a question that you want answered in the Dirty Talk Advice Column? Contact Rain here.
OR