Last updated: June 21, 2023

Welcome to our collection of free printable bubble letters! Here, you'll find four fun styles to play with: Rounded, Comic, Marker Pen, and Spooky. Each style includes everything from A to Z, 0 to 9, and also the common punctuation symbols. Whether you prefer them small or large, we've got you covered! Crafting novice or seasoned DIY guru – it doesn't matter; these bubble letters are a fantastic tool to have in your creative arsenal.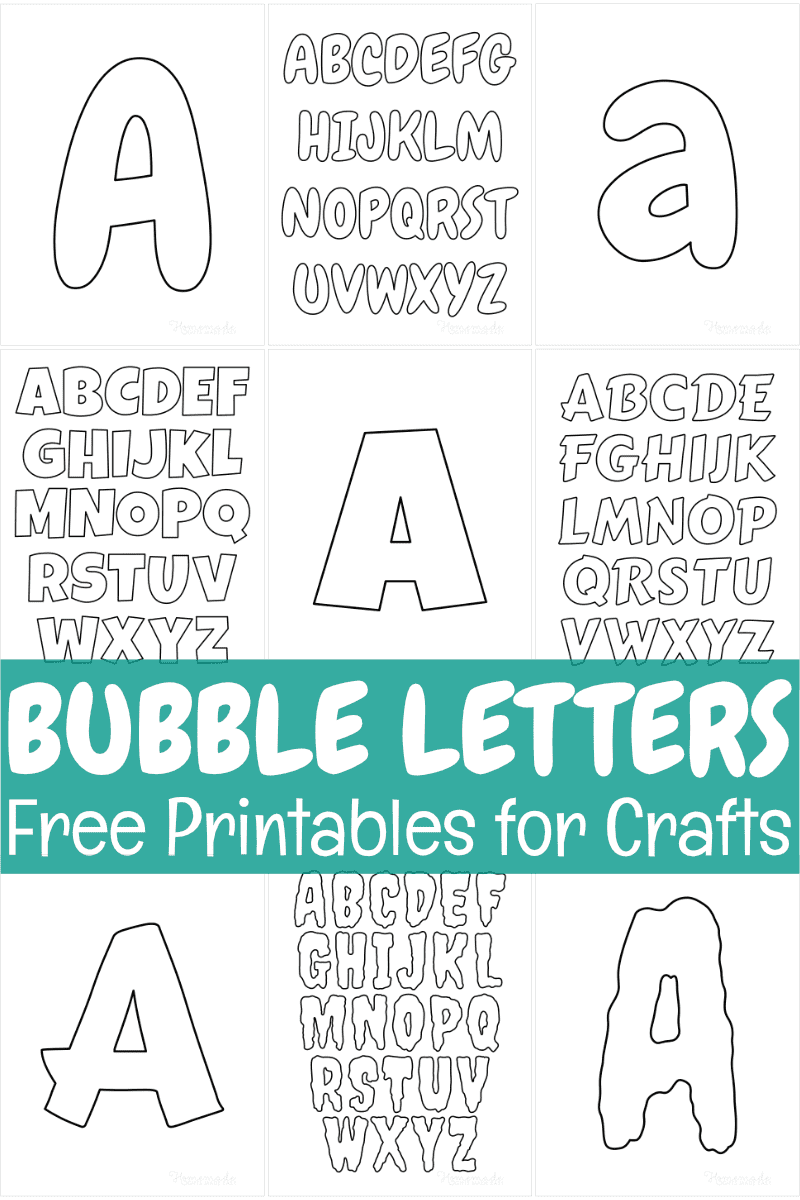 So, what can you do with these bubble letters? Well, we're glad you asked! There are countless ways to incorporate them into your crafty endeavors. Here are a few ideas to get your creative juices flowing:
Print & color them to make personalized banners or signs for parties and celebrations.
Use them to make patterns for craft and quilting
In scrapbooking to highlight special memories or quotes.
For unique, handmade greeting cards or invitations.
To design eye-catching wall art or DIY home decor.
Create educational games or activities for children to make learning fun.
Choose Your Bubble Letters Style

Ready to choose your style? We've got four fantastic options for you to consider: Rounded, Comic, Marker Pen, and Spooky. The Rounded style is great for a soft, friendly feel, while the Comic style can bring some fun energy to your project. Marker Pen is bold and eye-catching, and the Spooky style is perfect for anything Halloween-themed or just when you want to add a touch of mystery.
Feel free to explore and pick what suits you best – just click on the style name to jump to the section with its printables.
Round Style Printable Bubble Letters
These rounded bubble letters have a friendly, gentle charm. Whether you're decorating for a child's party, creating learning materials, or just want to add a dose of warmth to your project, these are a great choice. Just click a thumbnail to grab the printable PDF.
Comic-style Printable Bubble Letters
Say hello to our Comic-style bubble letters! Full of fun and personality, they're ideal for children's parties, whimsical decor, or any project that needs a dash of cheer. Simply click on any thumbnail and download the printable PDF.
Marker Pen Bubble Letters to Print
These bubble letters have a bold & distinctive design reminiscent of a marker pen. They're perfect for making your projects stand out. Just click any thumbnail to download a printable PDF and get crafting!
Spooky Halloween Bubble Letters
These bubble letters have an eerie edge that's perfect for adding a dash of thrill to your crafts. Whether it's Halloween decorations or a murder mystery party, these letters are your go-to. Simply click on a thumbnail to download the printable PDF and let the spooky crafting begin!
More Bubble Letters

Looking for more printable bubble letters? Check out our printable alphabet letters, printable numbers, and kindergarten coloring sheets.