Last updated: October 23, 2023

Get festive with our Thanksgiving word search puzzles! You know it's Thanksgiving when there are delicious aromas of roast turkey and pumpkin pie wafting in the air. On the fourth Thursday of November, the Thanksgiving holiday is an opportunity to share gratitude and delicious meals with our loved ones – why not share a Thanksgiving word search printable too?! These puzzles will add to your traditional festivities by introducing a brain-boosting activity for your little ones.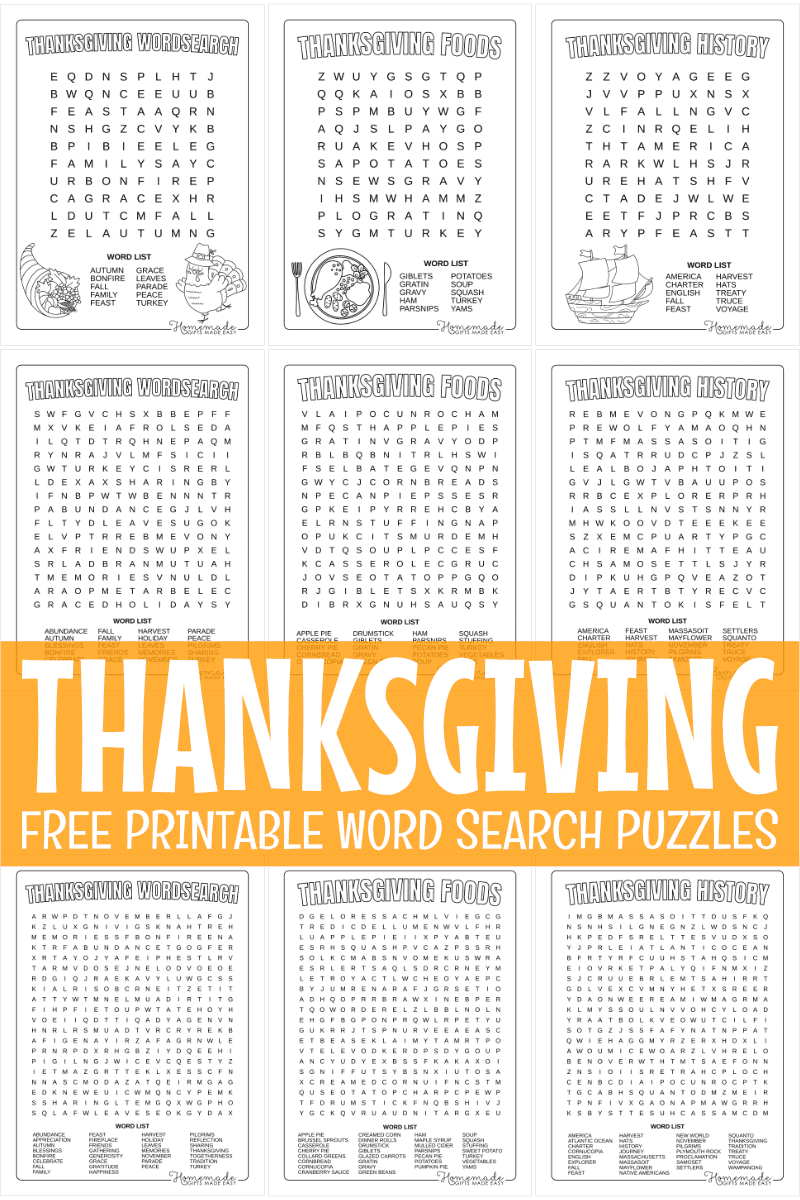 Did you know the event often recognized as the first Thanksgiving was celebrated back in 1621? When the Pilgrims landed in 1620, they were unprepared for the challenges they would face, including diseases like scurvy and pneumonia. Many Pilgrims didn't survive. However, Squanto, a Patuxet Indian, came to their aid by teaching them essential survival skills, such as how to plant corn, catch fish, and forage for nuts and berries.
The three-day Thanksgiving feast was organized by the Pilgrims in Plymouth (now Massachusetts) to celebrate a successful harvest. The Pilgrims and the Wampanoag tribe, led by Chief Massasoit, gathered together to share gratitude for the bounty of the season. Samoset, a key figure from the Abenaki tribe serving as a sagamore (a type of subordinate leader), played a pivotal role in initiating these relationships. The moment of unity set the tone for the annual celebration we observe today.
Our collection of Thanksgiving word search puzzles is a great way to teach kids about this important day in American history. Each puzzle has carefully chosen words related to Thanksgiving. As your little ones search for each word, use the opportunity to share fascinating tales of the first Thanksgiving, the Pilgrims, the Wampanoag and Abenaki people, and the history behind this holiday. So, no matter your age, get ready to combine fun, learning, and family time this Thanksgiving with our best free printable Thanksgiving word search puzzles!
Can you find all of the words? Grab a pencil, print off the Thanksgiving word search PDF, and have fun!
There are three themes of Thanksgiving word searches on this page (general, food, & history). For each theme there are three difficulty levels:
Easy – 10 words; down & right directions only
Medium – 20 words; up, down, left & right directions
Hard – 30 words; up, down, left, right, & diagonals
Each puzzle has different Thanksgiving words to find. Make it a family race to finish!
There's always one last word that stays hidden! Thankfully, all of the answers for each word search puzzle are found at the bottom of the page.
Jump to a section or scroll down this page to find our fun Thanksgiving word search puzzles and solutions. These printables are for personal, non-commercial use only. Happy puzzling!
Easy |
Medium |
Hard |
Solutions
Easy Thanksgiving Word Search Puzzles
Ease yourself in with an easy Thanksgiving word search. Each of these easy word searches has 10 hidden words, and the word direction is either right or down. There are no backward or diagonal words. These are perfect for young children.
Medium Difficulty Thanksgiving Word Search Puzzles
Test your brain with something a little harder. Each of these medium-difficulty Thanksgiving word searches has 20 hidden words, and the word direction is horizontal or vertical. This is a little tricky, as some words may be spelled backward!
Hard Thanksgiving Word Search Puzzles
These hard Thanksgiving word searches may have you puzzled! Our challenging word searches have 30 hidden words each, which may be horizontal, vertical, or diagonal, and they can also be spelled backward. Anyone who completes this can be very proud of themselves!
Solutions for Thanksgiving Word Searches
Stumped by that last word in the puzzle, hidden as well as your Grandma's secret cranberry sauce recipe? Don't worry, we're here to help! Discover the answers with the solutions to each Thanksgiving word search:
More Thanksgiving Printables for Kids
I hope you enjoyed our Thanksgiving word search puzzles! If you're looking for more Thanksgiving activities, take a look at our huge collection of free coloring pages and printables! They're all completely free to download and will keep your little ones happily busy.
Or, if your kid just really loves word searches, check out our complete collection of Printable Word Searches on All Topics and our Hard Word Searches.
Do your kids have a great sense of humor? Check out our Thanksgiving jokes.
Looking for a way to keep organized over the fall & winter months? Check out our printable November Calendar and December Calendar.