Last updated: September 15, 2023

Welcome to our lovely collection of weekly calendar templates that are free, printable, and oh-so-useful! Whether you're a list-maker, a time-tracker, or just someone who loves to stay organized, we've got a design that will make your heart sing.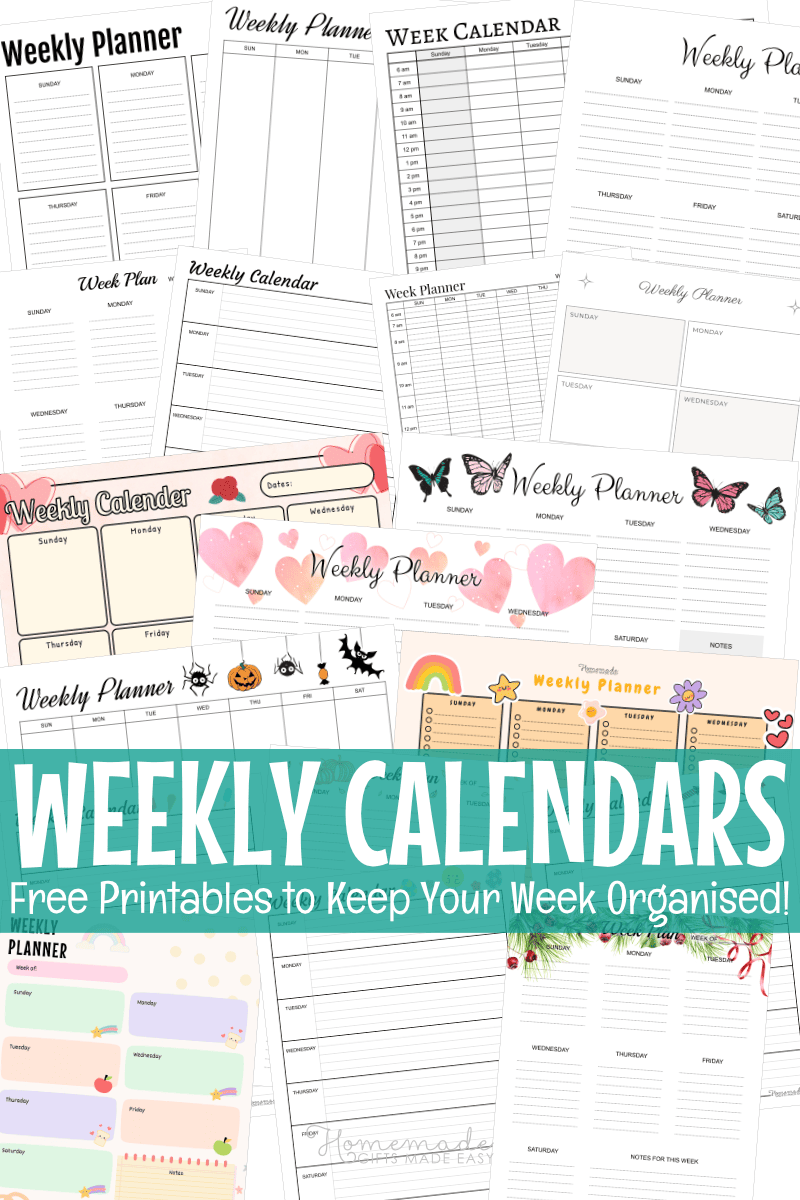 Looking for something simple and sleek? Our blank templates come in various layouts – think week-at-a-glance, columns, rows, and even options with time slots. Perfect for jotting down meetings, tracking workouts, or planning dinners, these black and white beauties have got your schedule covered.
But why stop at functional when you can have fabulous, too? Celebrate each season with our special weekly planners designed to add a little flair to your routine. Get spooky with Halloween designs, feel the love with Valentine's themes, or bask in the glow of holiday cheer with our Christmas options. And if you're a fan of everyday beauty, you'll adore our year-round designs featuring everything from sweet roses and tranquil eucalyptus to vibrant hibiscus and watercolor flowers.
To grab your favorite template, just scroll through our gallery until you spot the perfect match for your week planning needs. Click on the image and you'll be able to view and print the PDF right from your browser. Ready to make your weeks a little more organized and a whole lot prettier? Let's dive in! 📅✨
Blank Weekly Calendar Templates
If you're after something clean and versatile, check out our range of blank planners. Available in both landscape and portrait, these black and white templates offer different layouts – from a week-at-a-glance view to columns, rows, and time slots – to fit your planning style like a glove.
Weekly Calendar Template – Fall
Embrace the cozy vibes of autumn with our fall-themed templates, featuring two portrait and two landscape designs adorned with falling leaves.
Weekly Calendar Template – Butterflies
Float into organization with our beautiful butterfly-themed templates, where each design adds a touch of whimsy and elegance to your weekly planning.
Weekly Planner Printable – Roses
Add a romantic flourish to your week with our watercolor roses templates, where timeless beauty meets practical planning.
Weekly Calendar to Print – Eucalyptus
Infuse your weekly plans with a touch of nature using our eucalyptus leaves and flowers templates, where tranquility and organization effortlessly come together.
Weekly Calendar Template – Hibiscus
Transport your planning to a tropical paradise with our red hibiscus templates, where vibrant blossoms bring a burst of island flair to your weekly schedule.
Weekly Calendar Printable – Watercolor Flowers
Refresh your weekly plans with a splash of spring, thanks to our watercolor flowers templates that infuse your schedule with blooming elegance and pastel charm.
Printable Week Calendar – Halloween
Add a sprinkle of spooky fun to your weekly plans with our cute Halloween templates, featuring pumpkins, spiders, bats, and candy for a hauntingly organized week.
Printable Week Planner – Thanksgiving
Celebrate the bounty of the season with our harvest Thanksgiving templates, adorned with pumpkins and fall leaves for a warmly festive approach to your weekly planning.
Festive Weekly Calendar Template
Deck your plans with holiday cheer using our festive Christmas holiday templates, featuring evergreen foliage and red berries for a jolly and organized week ahead.
Weekly Calendar Printable – Winter
Transform your weekly planning into a winter wonderland with our snowflake templates, where each design adds a frosty elegance to help you navigate through chilly days.
Weekly Calendar Template – Cute Hearts
Spread the love in your weekly plans with our cute Valentine's Day templates, featuring whimsical hearts that add a sweet touch to your schedule.
Weekly Calendar Printable – St Patrick's Day
Add a dash of luck to your weekly planning with our St. Patrick's Day templates, adorned with lucky shamrocks and gold coins for a festive and fortunate week ahead.
Printable Weekly Calendar – Easter
Hop into spring and brighten up your weekly plans with our Easter templates, featuring cute chicks, spring flowers, and colorful Easter eggs for a cheerful and festive week.
Weekly Calendar Template – Stars & Stripes
Celebrate your week in true patriotic style with our July 4th Stars & Stripes templates, where red, white, and blue infuse your schedule with American spirit.
Summer Weekly Calendar to Print
Cool down your week with a burst of color using our summer popsicle weekly calendar templates, bringing a deliciously vibrant touch to your sunny plans.
More Free Printable Calendars
Need a printable calendar to keep on top of everything happening this month? Whether you prefer a classic or colorful design, our printable calendars have all the dates filled in and are perfect for keeping your schedule organized and your goals on track. Click a link below to jump directly to the page for a specific month and find the perfect calendar for you.
Monthly calendars:
If you'd like to see the whole year at a glance, make sure to check out our Year Calendar Printables. And if you'd like to see all our calendars, check out our full collection of printable calendars and planners!