14 Jun

9 Front Porch Ideas That Will Set Your Summer Style in Full Bloom

Summer is the time when blooms burst with color and porches overflow with lavish displays of vibrant florals. With so many options from which to choose, it's easy to feel overwhelmed. But with just a little planning, and by getting in touch with your personal style, you can get that gorgeous look you want for your porch in no time.

Here are nine front porch ideas for summer that will help you offer a stunning presentation of your home to passers-by and greet your guests in style.
1. Figure out your foundation elements
It's helpful to begin with a color scheme in mind. Do you like light, muted shades that give a modern farmhouse look? Or do you love the look of black and white accented with bursts of color? Pick three to four colors to build your look around. This will help you when choosing what to buy.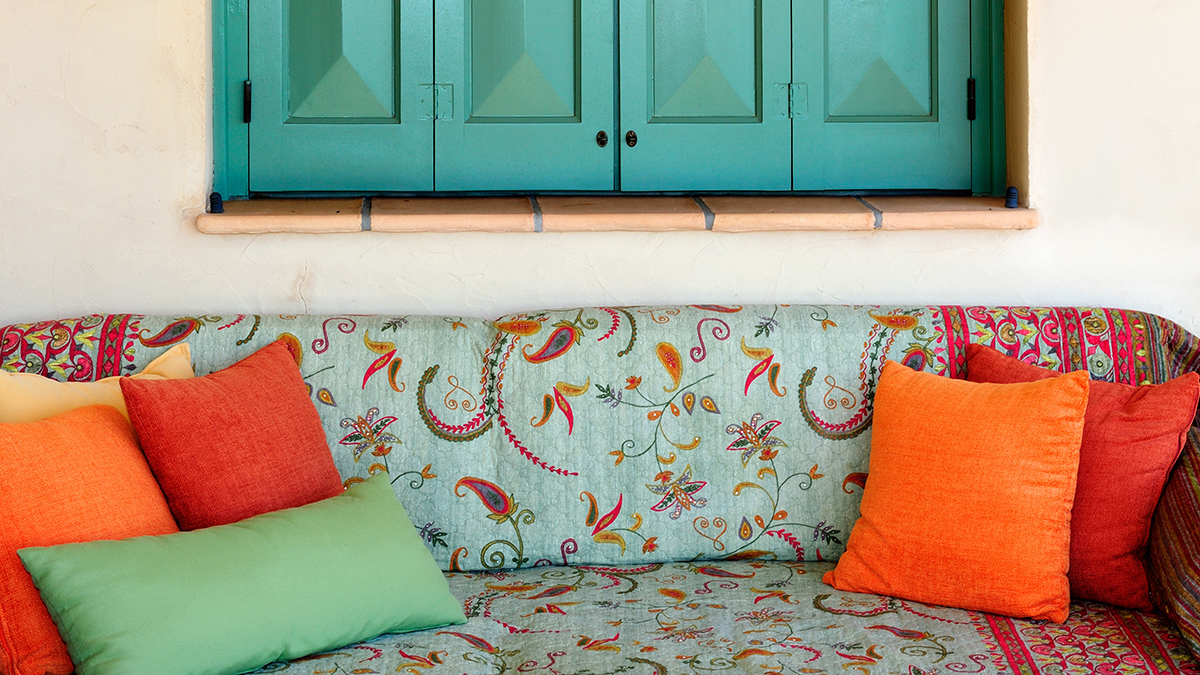 Layer an outdoor rug under a natural coconut fiber doormat. Stick with simple patterns and solid colors so the porch doesn't become too busy. If you have room for furniture on your porch, an accent table, hutch, or shelf can give plenty of spots to add plants and decorative touches.
2. Foundation plants set the stage for style
Now it's time to get down to business. Begin your porch garden look by starting with the largest plant displays. This includes:
Hanging plants
Ferns are a popular choice for summer, and for good reason. They're lush and full, low maintenance, and add instant bursts of green in spots that normally would just remain plain.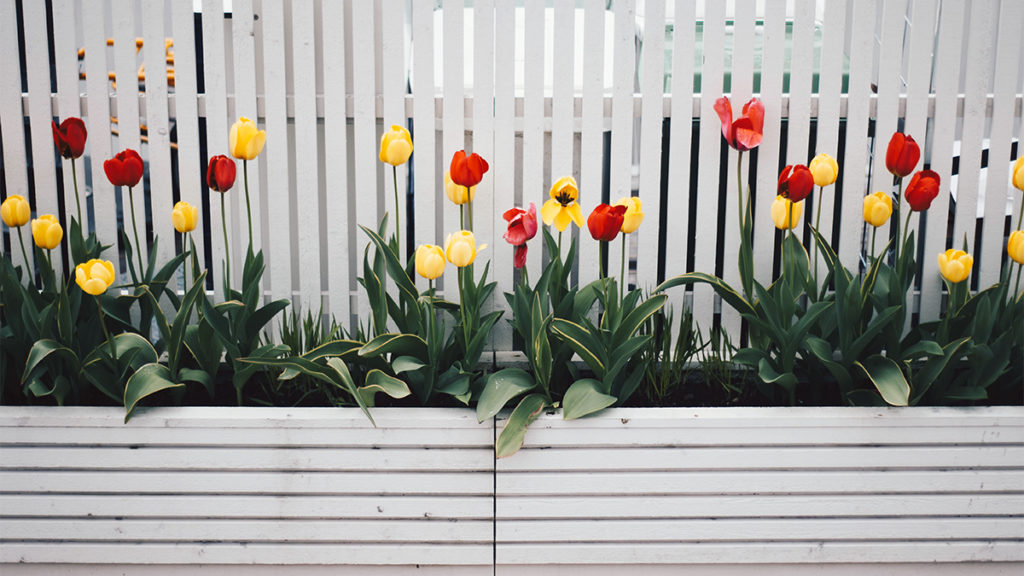 Window boxes
Give a polished look and enhance your home's curb appeal year round. For summer, window boxes provide a great space for planting annuals, such as petunias and pansies. To give a professionally arranged look, stick to one to three colors of flowers. Adding a taller plant to the center of each box, along with a creeping plant that can cascade over and down the box, creates a picturesque arrangement.
Large potted plants
Add in a splash of drama with larger, floor-sized outdoor plants and trees, such as a rose topiary or magnolia tree. Go the symmetrical route and place one on each side of a step or door for a more formal porch look.
3. Deck out your door decor
You can't go wrong with a colorful wreath, but there are other ways to achieve a homey, rustic look, such as a hanging basket of flowers. Next to your door, consider an elongated "Welcome" sign in a style that is consistent with the rest of your porch decor.
If your steps are wide enough, stagger pots and lanterns down the steps. Wood, terra cotta, or crisp black and white pots are all great options. Be sure to vary the shape of plants with some thin and tall varieties offset by shorter and fuller specimens.
4. Textured textiles
Adding textiles to your porch display creates visual interest and allows your plantings to pop. Outdoor-friendly blankets, flags, and pillows create a soft, tactile contrast to the foliage of your summer plants. These are especially well suited for covered porch areas that are generally protected from the elements.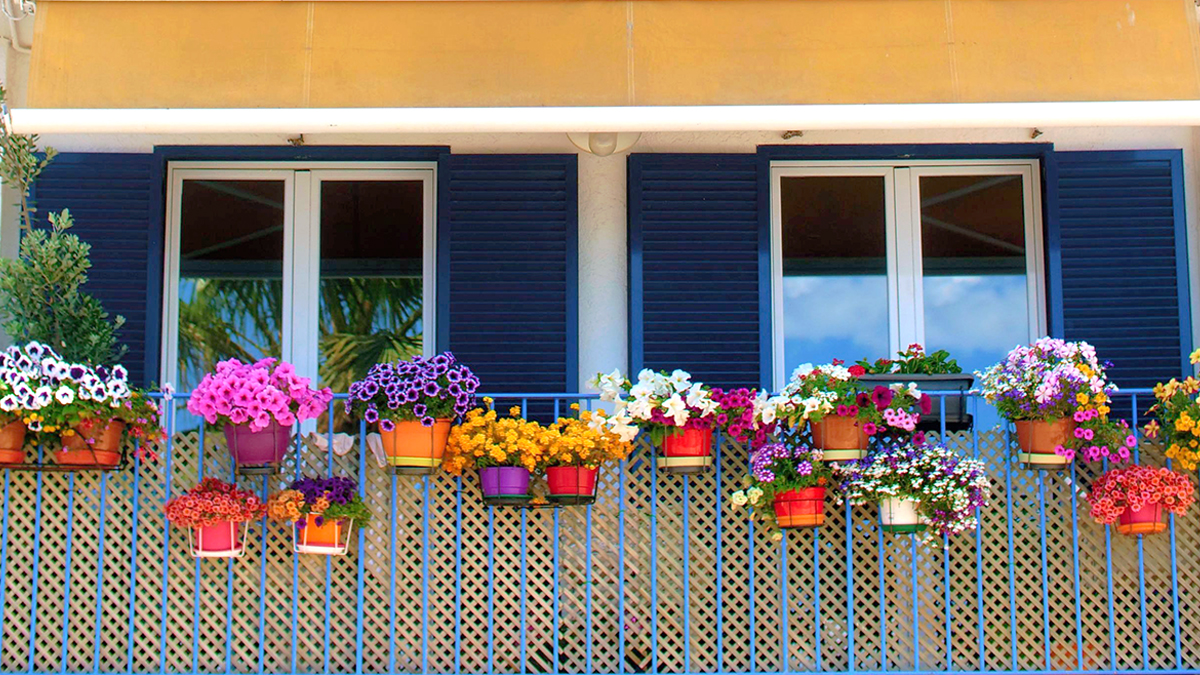 5. Fill the air with the scents of summer
When it comes to front porch ideas, it's not just visual displays that matter. Consider appealing to the other senses as well. Who doesn't love walking past a home and becoming entranced by the intoxicating scents of fresh blooms? Adding fragrant potted gardenias, roses, or lilacs, for instance, can naturally fill your entryway with sweet smells.
6. Soothing sounds add tranquility
Once the porch is luxuriously scented, it's time to move on to stimulating another sense — hearing. The sound of water is a relaxing way to add a pleasant surprise to your porch display. Tucking compact, outdoor-friendly fountains into a corner of the porch provides the soothing sound of flowing water and adds the visual touch of moving water to your home's exterior.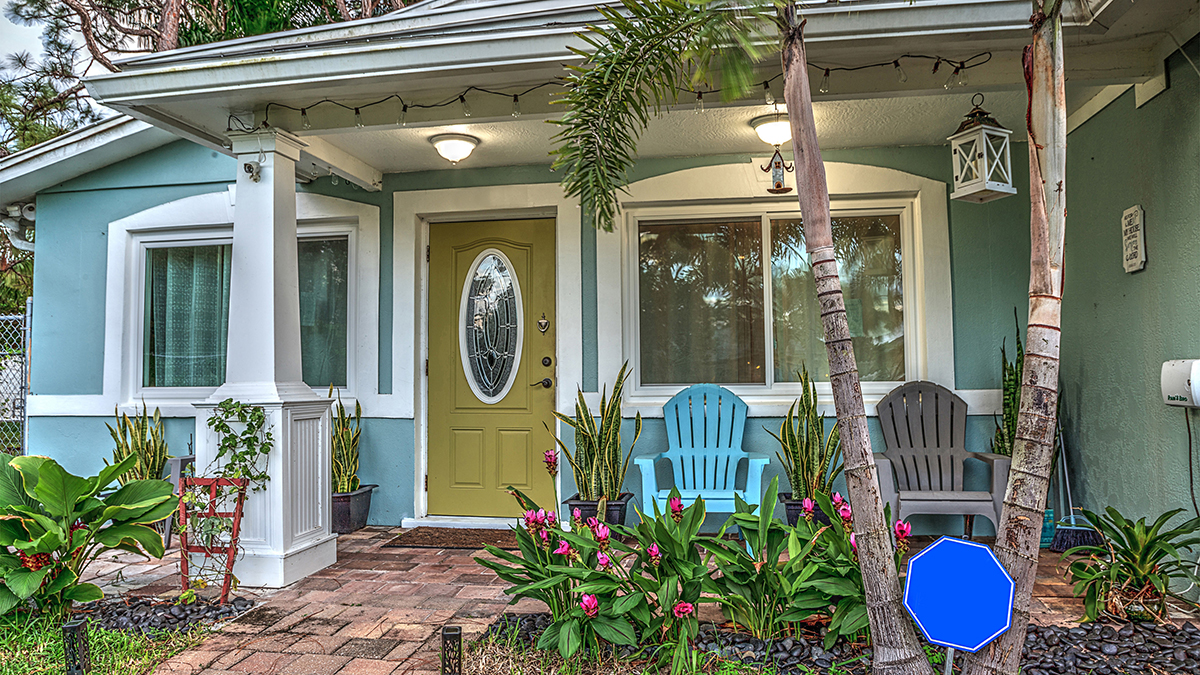 7. Light up summer nights
Although there are plenty of hours of daylight in the summer, you'll still want to keep in mind how your porch looks during those summer nights. Thanks to innovations in solar power, it's easier than ever to add touches of light to your porch decor. Think lanterns, solar-powered candles, and accent lights, along with string lights that you can hang under your ceiling to illuminate the space. It's a quick way to draw attention to plants and cast dramatic shadows to complete the evening look.
8. Celebrate summer with a seasonal arrangement
Once you have the major porch elements covered, you can have fun by sprinkling in smaller decorative touches. Keep your summer porch display interesting by placing a special floral arrangement on an outdoor porch table. Show off your patriotic spirit for the Fourth of July with an adorable Yankee Doodle Doggie red, white, and blue pupper. Or, if you're more of a cat person, how about a purrfect Seaside Mermaid kitty that every beachside porch absolutely needs.
9. Ensure your porch plants look fabulous all summer long
Once you've achieved a picture-perfect porch look, you'll want to make sure you keep it in tip-top shape all season. The summer can be a challenging time, with high temperatures, blazing sun, and unpredictable rain, so you need a strategy to keep your flowers happy right up until the fall.
Choose plants that fit your lifestyle. If you will be home throughout the summer, pick ones that require regular watering. If you're away a lot or don't feel like pulling the hose out every evening, look for drought-tolerant plants, such as adorable succulent arrangements, that won't wilt during those drier periods.
Be realistic with your porch's sun exposure. Although you might adore full-sun flowering plants, if your porch is mostly shaded, these varieties just won't thrive. Select flowers that can withstand temps into the 90s when not in direct sunlight, such as a decorative orchid. In colder months, bring it inside until the next spring. Similarly, avoid wasting money on plants made for shade that will quickly burn up in full sun.
Don't forget the fertilizer. Container gardens and potted flowering plants do well with a high-phosphorus organic fertilizer. This can be the difference between your blossoms continuing through Labor Day and the flowers fizzling prematurely. Apply liquid fertilizer twice monthly but never when plants are dry or dehydrated.
Related