If we listed out all the reasons to celebrate Mom, we'd be here all day!
Moms bring us comfort like no one else can, and today we couldn't be happier to share our 10 Best Deals for Moms! These thoughtful gifts are highly unique and let her know you care. 🤗🤱
P.S. Don't wait! Complete your Mother's Day shopping TODAY so you can relax knowing it's taken care of. Remember, Mother's Day is only a few short weeks away!
This Mother's Day, delight Mom with a fun and funky best-seller from Monarque!
This Dallas-based small business was launched 5 years ago by nature and art-loving friends to create quality accessories for women. Their RFID Zipper Wallet is the perfect blend of style, functionality, and protection. It's a vegan leather wallet showcasing enchanting designs that reflect Mom's individuality.
The wallet's 11-pocket divider ensures ample space for IDs, credit cards, and other essentials, while the sturdy zipper and chunky toggle make it easy to secure and carry.
Most importantly, Monarque's RFID-blocking technology shields Mom's sensitive information from identity theft, making it a gift she'll cherish for both its beauty and peace of mind.
P.S. These wallets come in DOZENS of one-of-a-kind designs, so you'll be sure to find something Mom will love!
The deal: Want to unlock 10% off + FREE shipping this Mother's Day? Enter code "MDGrommet23" at checkout!
North Country Wind Bells® are perfect for any Mom who loves the sea!

These American-made bells are family designed and have been handcrafted on the rocky coast of Maine for over 50 years.

Each beautiful bell echoes the sounds of the buoy bells whose sweet music can be heard up and down America's coastline.
Choose the windcatcher design Mom will love best including nautical, nature, wilderness, and pet themes. These one-of-a-kind bells are perfect for Mother's Day and will remind Mom of your thoughtful gift every time the wind blows. Help Mom relive her favorite summers spent on the water!

The deal: Grommet shoppers have access to flat-rate shipping! This means you'll pay the same great shipping rate whether you buy 1 bell or 10!

Buy from North Country Wind Bells®
3. Custom Cuff: This stunning necklace set is fully customizable to remember shared memories (keep one for yourself & give the other to Mom!)
While Moms get extra love on Mother's Day, they really deserve to be celebrated every day of the year.
Custom Cuff's Bar Necklace Set is a wonderful way to celebrate your favorite shared memories together. This 2-necklace set is fully customizable — engrave the coordinates of a special location where memories were made, a date that means a lot, her initials, or a meaningful quote or phrase.
You keep one necklace and she keeps the other!
This beautiful custom jewelry will create a special bond that only you and Mom will know about! Whenever you're feeling scared or stressed, simply touch your necklace to be reminded of the love Mom blanketed you with growing up.
You'll both get to smile at your best memories together every time you look down at your custom necklace. This Mother's Day, give a gift she'll cherish FOREVER!
P.S. Shipping is FREE on all orders over $70!
If anyone deserves a little stress relief, it's moms!
Which is exactly why this Stress Relief Toolkit from Dr. Doug's is the PERFECT Mother's Day Gift!

It features their ultra-popular Magnesium Balm and Charcoal Soap, handcrafted by Dr. Doug in Carmel, Indiana, and formulated to help Mom look and feel her best.

The luxurious Magnesium Balm is designed to soothe tired and achy muscles, alleviate stress and anxiety, promote restful sleep, and boost energy levels. It's made with certified organic ingredients, is dermatologist-approved, and is safe for all skin types.
She'll also receive their Charcoal Soap, which gently exfoliates and draws out impurities, leaving her skin clean, smooth, and blemish-free. This Stress Relief Toolkit will leave Mom feeling refreshed, rejuvenated, and ready to tackle whatever life throws her way!
P.S. Dr. Doug's is proud to be a Veteran and Women-owned small business!

The deal: The first 50 orders from Grommet readers receive a FREE Lip Logic All-Natural Lip Balm! Use code "GROMMETMD2023" at checkout to redeem!
5. Click & Carry: Help Mom carry all her shopping bags COMFORTABLY with this strain-reducing device
We all know Mom is Superwoman, but just because she could carry all her bags without some extra help doesn't mean she should!
Help Mom give her arms and wrists a break with Click & Carry!
This ingenious device helps her carry multiple fully-loaded bags at once — COMFORTABLY.

The padded gel bottom allows Click & Carry to rest gently on her shoulder while supporting up to 80 pounds of milk and spinach.
(Because Moms never stop wanting to give you strong bones.)
She'll love the reduced strain on her arms, hands, and wrists.
And you'll love giving back to the woman who's done so much for you.

Buy from Click & Carry

Standard, old-fashioned Tunisian crochet hooks are awkward and very hard on the hand and wrists.   
My Two Ladies' handcrafted fiber art tools are specifically designed with ease of use and proper hand health in mind.

With this, Mom will be able to crochet quicker, easier, and longer with less pain and strain on her hands, wrists, and upper body. These ergonomic crochet hooks will be adored by crocheters of any skill level (especially Mom)!
She'll be able to take her passion for creating to the next level while spending endless hours doing what she loves. This is a gift that will truly last a lifetime and allow for crocheting in comfort.
Both Mom and her hands will thank you!
The deal: Grommet fans get FREE SHIPPING for Mother's Day with "Grommetfree" at checkout!

Buy from My Two Ladies
7. Trivae Lid Holder & Modular Trivet: This Mom-powered team created a versatile kitchen tool to hold hot lids & serve meals with ease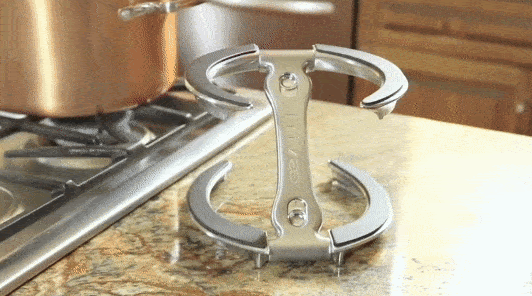 Does Mom enjoy handling scalding hot lids or post-cooking cleanup? Of course not!
And wouldn't she enjoy presenting meals in a brand new, elevated way? We think so!

The Trivae Lid Holder & Modular Trivet is a multi-purpose kitchen accessory that moms LOVE!

It's a convenient place for Mom to stash messy, hot lids while she cooks while keeping drips contained and minimizing clean-up. But it doesn't stop there!
Trivae goes from the kitchen to the table to serve as an elevated serving stand, too.

P.S. It's ready right out of the box and also expands into a long trivet to hold a platter or two dishes at once, eliminating the need for multiple trivets.
The deal: Use code "BESTMOM15" to score an extra 15% off all gifts!
Does your Mom love to spend time in the garden, planting, pruning, weeding and experiencing nature?
Help Mom enjoy her garden time even more with a pair of Foxgloves Elle Grip! These EXTRA-LONG gloves are made for moms who love spending time in the garden, without destroying arms, hands and nails!
Their distinctive elbow-length design extends comfort and protection from fingertip to elbow. The tight knit keeps hands and nails clean. She will love the non-slip holding power when using tools or driving the car.
With these versatile gloves, Mom will experience soothing support while protecting her hands and forearms against scratches, irritation from plant oils, and sun damage.

The Deal: Harriet, Foxgloves' founder, is beloved by the Grommet community! This Mother's Day, she's unlocked a special code just for our readers. Take 15% off Foxgloves Elle Grip with code "GM23" and get FREE shipping on all orders $75+!
9. Microwave Bowl Holders: These beautifully designed, HANDMADE kitchen accessories are a Mom lifesaver when heating up leftovers
Don't let Mom handle hot dishes with the same oven mitts she's used for the last 40 years!
(Those things are WORN OUT!)
These colorful Microwave Bowl Holders are the ideal mealtime accessory for any kitchen! They're handmade in the USA with 100% premium cotton, and make heating up leftovers a breeze.
Explore tons of fresh designs featuring original art and fabric patterns by Shawn Sargent Designs.
The curved design ensures they maintain their shape even after washing, while the versatile, reversible construction fits most bowls and dishes.
Help Mom say goodbye to slippery towels and hot pads; let Mom enjoy her meals worry-free with these beautiful and practical Microwave Bowl Holders, and make her Mother's Day extra special.
The deal: Use code "GRM-MOM" for FREE shipping on all orders!

Buy from Shawn Sargent Designs
10. iRoller: Help Mom remove smudges & fingerprints from her devices in the blink of an eye (WITHOUT harsh chemicals)
Many moms enjoy relaxing at the end of a long day by scrolling on their phones or tablets, but all that scrolling can make their screens FILTHY!

Don't trust harsh chemical sprays or nasty rags to get the job done — iRoller makes cleaning her devices quick and easy!

All she has to do is move iRoller up and down her device screen and in a matter of seconds, she'll remember what it's like to have a brand-new phone or iPad!

iRoller is reusable, so she can use it over and over again should smudges reappear.
She'll think of you every time she uses her sparkling clean devices!
The deal: iRoller is offering multiple money-saving offers today including an ultra-popular 3-pack that saves you over $25. (Don't worry, we won't tell if you keep 1 or 2 for yourself. 😉) Shipping is FREE on all orders!

Buy from iRoller