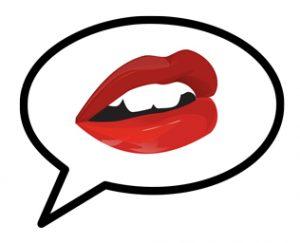 There are few things in life I love more than pegging. Pegging is truly one of my happy places. With joy in my heart and lube in my hands, I will be spreading the pegging gospel for as long as I can. Thanks to more effective communication and available resources, more and more people are becoming comfortable with increased sexual exploration, and pegging is high on that list.
However, a willingness to explore things can only go so far without someone willing to explore with you. By far one of the most common questions I get asked is: "Where can I find someone to do (activity) with?". Coming to terms with one's desires is only the first step on one's journey. Once that step has been made comes the more complex step of finding travel companions.
Today's column comes courtesy of a reader who is seeking a new pegging partner and doesn't know where to look. Where does one find NSA fun for their deeper desires? The Dirty Talk Advice Column has some answers! (Fair Warning: you might not like them)
---
"Several years ago I was in a mutually beneficial relationship with a woman and she'd peg me maybe 3-4 times a month. We no longer play like that and I am currently looking for some form of LTR where we can both enjoy our company but primarily would be meeting for pegging sessions. I'd love any info you might have that could guide me in the right direction. Are there any forums or sites where I can talk/get to know someone who might be interested in such a situation? I'm not looking for an ongoing personal relationship, just a casual meet up with someone interested in doing strap-on play with me."–Pegging Play Please!
You are in the middle of a math equation PPP. Let's break it down. First, you have to eliminate everyone not local to you, if a once-weekly meet-up for pegging fun is your goal. Next, you have to eliminate everyone not interested in pegging. Then you need to eliminate everyone that for whatever reason you are incompatible with. It could be something as simple as they have a perfume they love and won't go without and you are allergic to it. There is any number of reasons why two people might not click. Finally, you have to eliminate everyone that isn't also looking for NSA fun.
Thankfully Your Total is Greater Than Zero
What are the numbers for a person local to you, into regular pegging sessions, with a  person you get along with and isn't seeking a relationship? They are obviously more than zero because you have had such a situation in the past. However, you aren't going to be tripping over such people while walking down the street and going about your day.
Your letter doesn't say where you met your previous pegging partner or why the two of you stopped interacting in that manner, but at least you know such arrangements are possible, if not probable. The reason I say they are less likely to be probable is because of the various restrictions around the situation.
A once-a-week meet-up with someone you aren't interested in forming a personal relationship with is, to be frank, a big ask. Most people willing to add a weekly ongoing romp into their schedule are probably going to be seeking a bit more of a relationship dynamic than you appear to be interested in. Most people that are willing to meet up with you on the regular for NSA pegging sessions are going to want to be compensated for time and skills.
Consider Going Out To Eat
If you want the quick and easy fix, I suggest you try to find a professional in your area that specializes in this type of play. Even though the websites advertising these types of services keep getting shut down, with a minimal amount of online searching you will probably find someone local who is proficient in this activity offering their services.
I know that some people are opposed to paying for this kind of thing and feel like it isn't an "authentic" experience when money becomes involved. My retort is, that you are willing to pay experts from other fields to perform tasks for you. I liken it to going out to eat. Yes, you can convince someone to come over to your house and cook you a meal for free but you pay for a nice restaurant to experience the carefully honed culinary skill of the chef. Everyone desires to eat good food but you would never go into a restaurant and demand that you are entitled to a free meal.
If you are looking for sites where you could seek out potential new partners, Fetlife.com is the one I would recommend. It currently has over 8 million users and is full of forums and discussions on the things you are into. I can not recommend it highly enough.
Perhaps There Are Pegging Classes In Your Area?
I do not know your location so I don't know if classes are something that happens in your area or not, but I have always found that attending strap-on classes is a very effective way of meeting other folks into strap-on play. Most venues and locations that are presenting classes will have the class info posted on Fetlife and I am no exception! Every time I teach a strap-on play class I list it on my Fetlife.
Be honest and direct about your desires. You know what you want, you have succeeded before and that increases your chance of succeeding again in the future. Your situation isn't all that uncommon, lots of men are seeking ongoing NSA pegging encounters. What you need to focus on is why YOU should be the one selected out of the pool of eager butts. What can you bring to the table in terms of hygiene, personality, or sexy time that will make someone be interested in engaging with you as opposed to someone else? Only you can answer that.
Patience is key, the more we put ourselves out there, the higher our chances of getting what we seek. That I can promise you for a fact. Give Fetlife a try, it is a good first step. Best of luck PPP!
Keep it Kinky My Friends,
RDG
Want to add your own insight to the conversation? Leave a comment below.
Have a question that you want answered in the Dirty Talk Advice Column? Contact Rain here.
OR